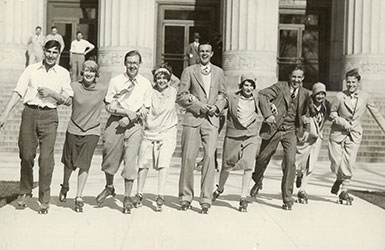 Come explore and engage with our collections and our staff.
Connect with us on social media:
| Facebook
| Twitter
To learn more about the Bentley, please visit our About page.
Hours and Location
Hours
Monday – Friday: 9:00am to 5:00pm
Saturday: 9:00am to 1:00pm
Location
The Bentley Historical Library
1150 Beal Avenue
Ann Arbor, MI 48109-2113
734-764-3482
The Bentley Historical Library reference staff offers assistance in person, by phone, and by email.
Bentley Staff
Administration

Name
Position
Email
Phone
Nancy Bartlett
Associate Director
nbart@umich.edu
(734) 936-1334
Kellie Carpenter
Administrative Assistant
kellcarp@umich.edu
(734) 763-8672
Angela Clark
Business Administrator
angclark@umich.edu
(734) 936-1341
Rob Havey
Communications Specialist
rphavey@umich.edu
(734) 936-1342
Terrence J. McDonald
Director
tmcd@umich.edu
(734) 764-3523
Meg McKenzie
Administrative Assistant
mmcken@umich.edu
(734) 647-7828
Lara Zielin
Editorial Director
laram@umich.edu
(734) 936-1342

Access and Academic Programs

Name
Position
Email
Phone
Diana Bachman
Project Archivist
dccapul@umich.edu
(734) 936-1337
Caroline Barraco
Reference Assistant
cbarra@umich.edu
(734)764-3482
Greg Kinney
Athletics Archivist
gkinney@umich.edu
(734) 763-2907
Malgosia Myc
Assistant Director for Reference Services and Lead Reference Archivist
mycm@umich.edu
(734) 763-2187
Cinda Nofziger
Assistant Archivist for Academic Programs & Outreach
cindamn@umich.edu
(734) 647-3524
Emily Swenson
Project Archivist
swensone@umich.edu
(734) 647-3715
Karen Wight
Reference Assistant and Project Coordinator for the Detroit Observatory
kwight@umich.edu
(734) 936-1337

Bicentennial Initiatives

Name
Position
Email
Phone
Brian Williams
Archivist, Bicentennial Initiatives
bwms@umich.edu
(734) 936-1343

Collections Development

Name
Position
Email
Phone
Elizabeth Carron
Assistant Records Manager
ecarron@umich.edu
(734) 647-3727
Aprille McKay
Assistant Director for University Archives and Records Management
aprille@umich.edu
(734) 936-1346
Mike Smith
Johanna Meijer Magoon Principal Archivist, Michigan Historical Collections
mosmith@umich.edu
(734) 764-3482

Curation

Name
Position
Email
Phone
Matt Adair
Lead Archivist for Digitization
mladair@umich.edu
(734) 647-3537
Tim Baron
Digitization Technician
tlbaron@umich.edu
(734) 764-3482
Lilly Carrel
Project Archivist
lcarrel@umich.edu
(734) 615-0689
Max Eckard
Assistant Archivist for Digital Curation
eckardm@umich.edu
(734) 763-7518
Melissa Hernández Durán
Assistant Archivist for Audio Visual Curation
mhdezd@umich.edu
(734) 647-4817
Dallas Pillen
Assistant Archivist for Metadata and Digital Projects
djpillen@umich.edu
(734) 647-3559
Devon Proudfoot
Project Archivist
dproud@umich.edu
(734) 615-0762
Shae Rafferty
Project Archivist
raffersh@umich.edu
(734) 647-3864
Corinne Robertson
Conservator
cormich@umich.edu
(734) 936-1347
Dianna Samuelson
Conservator Senior
sdianna@umich.edu
(734) 936-1347
Mike Shallcross
Assistant Director for Curation
shallcro@umich.edu
(734) 936-1344
Julia Teran
Project Archivist
teranju@umich.edu
(734) 647-3715
Olga Virakhovskaya
Lead Archivist for Collections Management
volga@umich.edu
(734) 647-2737