A step-by-step guide for Library users
The Bentley Historical Library is open without fee to all researchers regardless of academic or professional affiliation. Because our one-of-kind materials can only be viewed here in our Reading Room, please follow these instructions if you would like to order duplication of any material. Please visit our Duplication of Materials page for additional information about prices.
This online process is new, so please bear with us if the system gives you an error message! If you are having trouble with the online process, please email bentley.ref@umich.edu or call Reference staff at 734-764-3482.
NOTE: you cannot save your order and come back it later—you need to fill in and submit the duplication request all at once.
First, sign in to your Bentley research account. If you need to register for your research account, please create a UM Friend account and password, then activate your account on the BHL website (or use your UM login information if you have a UM email address): http://bentley.umich.edu/research/
Submit a "New Reading Room Request" from either Mirlyn or the Finding Aids for the item/box that contains your desired material. You will specify the individual items in the next step. If you are selecting folders from a finding aid, please fill in the check box for ALL folders containing material you would like duplicated: http://bentley.umich.edu/research/requesting-items/
When your account appears with your new request, click on the transaction number (TN).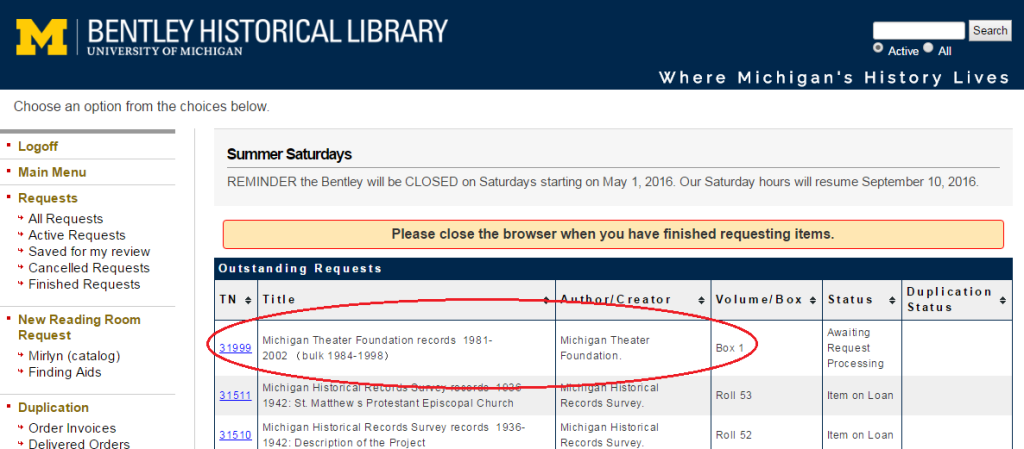 At the top in red type, click the "Order Duplication" link. This will create a second "cloned" request for ordering duplication.

NOTE: if you are in the Reading Room and ordering duplication from an item checked out to you, please click on your current transaction number and use the "Order Duplication (checked out)" link.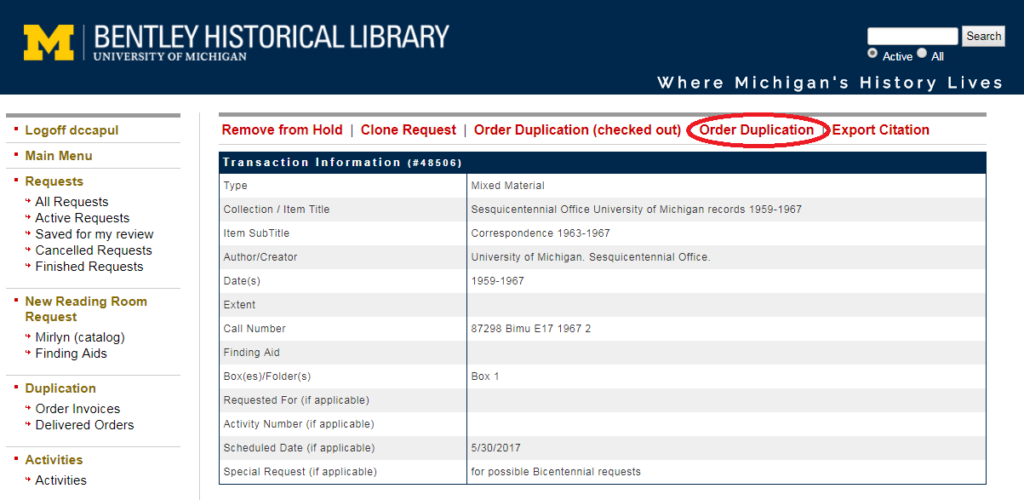 Scroll down to the "Items to Duplicate" section.

If you had clicked on multiple folder titles in your initial request, titles will be automatically transferred to the single-line text boxes under "Folder Title." If you only clicked one folder title, it will not transfer and needs to be typed in manually.

If you need to delete folders from your request, click "Delete Item." If you need to add new folders to your request, click "Add Item."

Beneath the Folder Title, there is a Description text box, where you must enter a list of the folder contents that you would like duplicated (ex. "all documents," "7/4/1918 letter;" "1920 Report on Budget;" "pages 11-40;" "photo of family dog," "HS 1234," etc)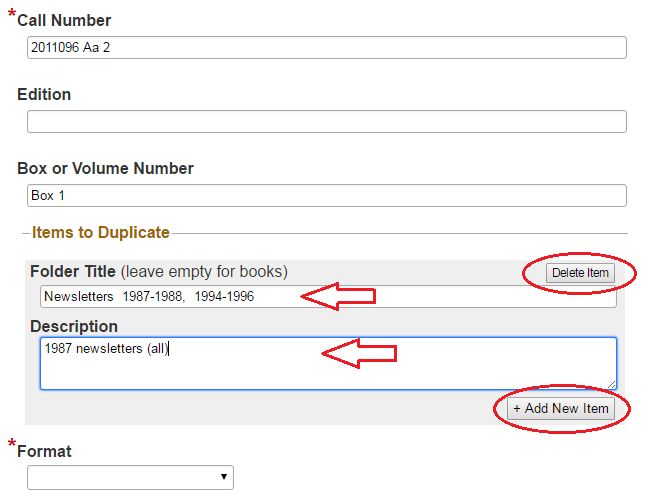 For U-M unit orders, please use the Special Request field to provide your shortcode for payment.
When you are completely done with your order, click "Submit Request." Remember, you cannot edit your request after you click submit! If you need to edit your order, please contact Reference staff.
You should see your research account reload in a new tab showing both the original and cloned requests. The cloned duplication request will show both an Item Status and a Duplication Status notification.

After a few minutes, the system will cancel the original non-duplication request, so you will have only one transaction number for your order.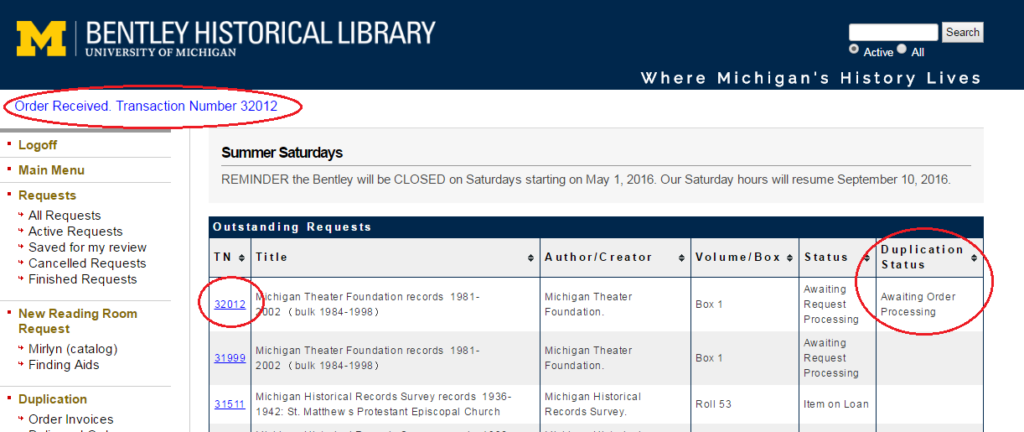 You can track the Duplication Status of your order in your research account. Generally photocopy/scan orders will take 2-4 weeks; oversize or AV duplication will take 6-8 weeks. When duplication is complete, you will receive an email with your order total, then you may pay for your order by cash or check, or by credit card that you call in to Reference staff.
Please contact our Reference staff at bentley.ref@umich.edu 734-764-3482 if you have questions about our procedures. We're happy to help!