The Bentley Historical Library is part of the Victors for Michigan fundraising campaign to further the Library's critical mission collecting the materials for and promoting the study of the histories of two great, intertwined institutions: the State of Michigan and the University of Michigan. This, our first foray into a U-M campaign, is both ambitious and transformative, and stems from the constant and continued withdrawal of state funds from the University of Michigan. These cuts have already affected our day-to-day operations, not to mention endangering the fragile state of many of our archives. This means that private funds are now the best means by which we may continue our fundamental role as an interactive laboratory where a range of audiences—including students, faculty, journalists, historians, family researchers, authors, university officials, and more—can access the educative power of the past in order to better evaluate and impact the present.
Read four great reasons to invest in the Bentley.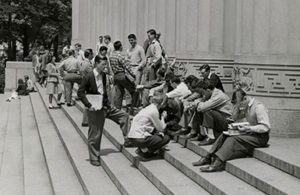 The Victors for Michigan campaign launches at an exciting moment here at the library, where we've spent the last decade transforming how students, scholars, and researchers go about their work. Our $10 million goal is worthy of the name Victors, enriching the powerful historical experiences possible at the Bentley today while supporting the next generation of historical researchers and patrons.  To do all this, and so much more, the Bentley needs you—because our world needs Victors.