Presidents of the University of Michigan
What follows is a chronological listing of the Presidents of the University of Michigan prepared by the staff of the University Archives and Records Program at the Bentley Historical Library. The list follows the tradition at the UM that presidents are numbered from the first appointment to the Ann Arbor campus in 1852, Henry Tappan.
The university was established by the first constitution of the State of Michigan in 1837. For many decades that was also considered the founding date. However, in 1817, the territorial legislature had chartered a "University of Michigania" in Detroit whose first and only president was a Presbyterian minister, John Monteith. In 1856, the Supreme Court of Michigan ruled that based on the transfer of certain assets, the University of Michigan in Ann Arbor was a successor institution to the University of Michigania in Detroit. It was only on July 1, 1929, that the founding date on the seal of the university was altered from 1837 to 1817. From that time to this day the founding date for the University of Michigan has been established as 1817, though John Monteith has never been officially listed as first president.

John Monteith, 1817-1821

John Monteith held the position of President of the fledgling University of Michigania from its founding in 1817 through 1821. The territorial governor and judges adopted a new law in 1821 placing the administration of the university in the hands of a Board of Trustees consisting of 20 citizen-members plus the governor. Monteith's title of president (as well as Gabriel Richard's as vice-president) was eliminated. Monteith continued to serve as a member of the new Board, but in the summer of 1821 left Detroit to assume a professorship at Hamilton College. The Board of Trustees governed the university through 1837 when a Board of Regents was created in the new state constitution. It was not until the state constitutional convention of 1850 reorganized the Board of Regents that the office of President of the University of Michigan was created.

Henry Philip Tappan - 1852-1863
(1st President)
Former professor of philosophy at NYU and author of a noted critique of higher education in the U.S., Tappan was a forceful advocate of the "German model" of university education. He moved the university from a strictly classical curriculum to a broader scientific curriculum. He supported development of a library, laboratories, an art gallery and astronomical observatory. Difficulties with the regents on matters both of policy and personality, led to Tappan's dismissal in June 1863.

Erastus Otis Haven - 1863-1869
(2nd President)
A professor of Latin, History and Literature at the university from 1852-1856, Haven was called to serve as president in the wake of the controversies surrounding Tappan's dismissal. He was able to win over elements from both camps and succeeded in consolidating some of the reforms Tappan had instituted and secured an annual appropriation from the legislature.
The Autobiography of Erastus O. Haven

Henry Simmons Frieze (acting) - 1869-1871; 1880-1882, 1887;

Professor of Latin Language and Literature at the university from 1854 to 1889, Frieze served three terms as interim president. The first following President Haven's resignation and later as acting president while Angell was abroad on diplomatic missions. Two significant innovations took place during his interim presidency: women were first admitted the university in 1870 and the diploma system of admission was instituted.
Finding aid to the Frieze papers.

James Burrill Angell - 1871-1909
(3rd President)
Angell's 38 year tenure was the longest of any UM president. A charismatic, persuasive and paternal figure, he was known to generations of students as "Prexy Angell." Enrollment had grown from 1100 to over 5000, too large for a successor to impress a personal stamp on the campus in the way Angell had. Because of his expertise in international affairs, Angell was called upon for occasional diplomatic service. He was minister to China from 1880 to 1881, a member of a commission to negotiate a new immigration treaty and served on three U.S.-Canadian commissions during the Cleveland administration.
Finding aid to the Angell Papers.

Harry Burns Hutchins - 1909-1920
(4th President)
In August of 1909 Harry Burns Hutchins, Dean of the Law Department, was named interim President for one-year to succeed President Angell. After several candidates, including Woodrow Wilson, declined to accept the presidency, the Regents decided to make Hutchins President for a three year term. Following some stormy negotiations with Regent Chase Osborn, Hutchins accepted a five year appointment. At the end of his term the Regents asked him to continue in office and Hutchins served until 1920.
Finding aid to the Hutchins papers.

Marion LeRoy Burton - 1920-1925
(5th President)
On July 1, 1920, Marion Leroy Burton, president of the University of Minnesota, became Michigan's fifth president. Tall, red-headed, with a commanding presence and a persuasive voice, he could captivate students and legislators alike. His talent for organization and vision of an expanding university exactly fit the needs and spirit of the post-war age. His tenure was tragically short, however, as he died in February 1925 following a heart attack. He had doubled the university's annual income and secured more than $10 million in appropriations and $2 million in gifts for new buildings.
Finding aid to the Burton papers.

Alfred Henry Lloyd (acting) - Feb.-Sept. 1925

Following President Burton's death, Alfred Lloyd, Dean of the Graduate School, was named interim President. Lloyd joined the Philosophy Department as an instructor in 1891 and became a full professor in 1906. He was named dean of the Graduate School in 1915. His daughter Alice Lloyd served as Dean of Women.
Finding aid to the Lloyd papers.

Clarence Cook Little - 1925-1929
(6th President)
Thirty-six year old Clarence Cook Little, then president of the University of Maine, was named president in September 1925. A cancer researcher with outspoken views on educational reform, Little proposed establishing a "University College" in which all students would be enrolled for their first two years. The faculty and deans were generally skeptical of the plan, leading to strained relations with Little, who lacked Burton's tact and political skills. Little resigned as president in June 1929.
Finding aid to the Little papers.

Alexander Grant Ruthven - 1929-1951
(7th President)
Just weeks before the stock market crash of 1929, Alexander Grant Ruthven was named the university's seventh president. He had received his Ph.D. in Zoology from Michigan in 1906 and immediately became an instructor in the department and curator, later director, of the University Museum. Ruthven guided the university through the Great Depression, World War II and the beginning of post-war expansion. He restructured the university's administration in a more corporate style and allowed for a greater role in governance by deans and faculty. Ruthven retired as president in 1951
Finding aid to the Ruthven papers.

Harlan Hatcher - 1951-1967
(8th President)
A former dean and English professor at Ohio State University, Hatcher's 17 year tenure saw dramatic expansion in enrollment and the physical campus. Student population grew from 23,000 to 41,000. Acquisition and development of the north campus began, and the Flint and Dearborn campuses were opened. Controversies over the firing of two faculty members during the McCarthy era and the rise of student activism also marked Hatcher's' years.
Finding aid for the Hatcher papers.

Robben Wright Fleming - 1968-1979
(9th President)
Robben W. Fleming, Chancellor of the University of Wisconsin and former professor of labor relations specializing in arbitration and mediation, became UM's ninth president in January 1968. That background served him well during the tumultuous years 1968-1979. Though Ann Arbor was a center of student activism, Fleming's patience, negotiating skills and genuine sympathy for the concerns of students and faculty, helped Michigan weather the decade without the destructive confrontations that struck some universities. Fleming later served as chairman of the Corporation for Public Broadcasting.
Finding aid to Fleming presidential papers.

Allan Frederick Smith (interim) - 1979

Law School professor and former Vice-President for Academic Affairs Allan Smith served one year as interim president following Fleming's resignation.

Harold Tafler Shapiro - 1980-1987
(10th President)
Harold Tafler Shapiro took office as UM's tenth president on January 1, 1980. Canadian by birth and educated at Princeton, Shapiro joined the UM Economics Department. in 1964 and co-directed the Research Seminar in Quantitative Economics, famous for its economic forecasting models. "Smaller but better" became the watchword of his tenure as the university experienced a series of budget crises and declining rates of state support. Shapiro resigned in 1987 to become president of Princeton.
Finding aid to Shapiro presidential papers.

Robben Wright Fleming (interim) - 1988

Fleming served as chairman of the Corporation for Public Broadcasting after resigning as university president in 1979. He was called back to campus to serve as interim president when Shapiro resigned.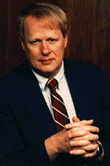 James Johnson Duderstadt - 1988-1996
(11th President)
Interim president James J. Duderstadt was named the university's 11th president. A nuclear engineer by training, Duderstadt had served as dean of the College of Engineering and Vice President for Academic Affairs. Foreseeing a world in which knowledge, globalization, and pluralism would be critical elements, Duderstadt initiated the "Michigan Mandate" to bring more diversity to campus and moved to reshape academic programs to prepare students for the global economy and information revolution. He also oversaw a major program of new construction and rehabilitation of the campus infrastructure.
Finding aid to Duderstadt presidential papers. and personal papers.

Homer A. Neal (interim) 1996

In January 1996, Homer Neal was named interim president. Neal received his Ph.D. in physics from UM in 1966, joined the faculty in 1987 and was appointed vice president for research in 1993.

Lee C. Bollinger - 1996-2001
(12th President)
Bollinger began his academic career in 1972 as an assistant professor in the Law School. He became a recognized authority on the first amendment and authored several books on free speech issues. He served as dean of Law School from 1987-1994 before leaving to become provost of Dartmouth University. Bollinger's tenure brought a renewed emphasis on the arts, highlighted by a residential program with the Royal Shakespeare Company. The Life Sciences Initiative positioned the university to be a major player in a developing field. Though popular with faculty and students, Bollinger also faced controversies on issues involving affirmative action in admissions and the Athletic Department. Bollinger resigned to become president of Columbia University.

B. Joseph White (interim) - 2002-

B. Joseph White, Wilbur K. Pierpont Collegiate Professor and Professor of Business Administration at the University of Michigan Business School and a Senior Fellow of the William Davidson Institute was named interim president following Bollinger's unexpected resignation. From 1991 to 2001, White served as Dean of the University of Michigan Business School and from 1992 to 2001, was President of the William Davidson Institute. White received his Ph.D. from Michigan.

Mary Sue Coleman, 2002-2014
(13th President)
On August 1st Mary Sue Coleman became U of M's first female president. Coleman had served as president of the University of Iowa since 1995 where she was also professor of biochemistry in Iowa's College of Medicine and professor of biological sciences in the College of Liberal Arts. Coleman earned her bachelor's degree in chemistry from Grinnell College and her Ph.D. in biochemistry from the University of North Carolina. She conducted postdoctoral work at North Carolina and at the University of Texas at Austin. As the 4th-longest serving president, Coleman oversaw an extensive building and renovation program, acquired the North Campus Research Complex, fostered the creation of the Life Sciences Program and the Research Corridor and encouraged entrepreneurship and cooperation with business. She expanded the university's international presence, particularly in China, and helped steer the campus through the nation's most severe economic crisis since the great depression.

Mark Schlissel, 2014 - 2022
(14th President)
Schlissel took office as the 14th president on July 1, 2014 and was formally inaugurated on September 5. He was removed by the Regents on January 15, 2022.

Mary Sue Coleman, (Interim) 2022
The Board of Regents asked Coleman to return in an interim capacity to the position she held from 2002 to 2014. Coleman accepted, saying, "I welcome the opportunity to work with you once again in moving forward with the critical agenda of the University of Michigan."
Photo credits: