Architects, Architecture, and Landscape Design
The Bentley Historical Library holds collections that represent groundbreaking architectural and landscape design. These holdings include collections from architects that designed and constructed the early 20th Century Midwestern built environment, architects and educators that established and sustain the architectural education program at the University of Michigan, and architects that forged and continue to lead the modernist movement. Researchers can use some of the more extensive collections, which include notes and early conceptual designs, to shed light on the creative evolution of a project.
Late 19th Century to Early 20th Century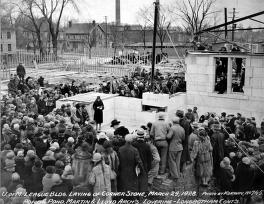 University of Michigan League Building,
Laying of Corner Stone. March 29, 1928
Pond & Pond, architects
Holdings from this time period include architects that pioneered new methods in construction and design. These collections can be used to show how turn of the century architecture was intertwined with social movements of the time, while providing an opportunity to study architects that were forging new structural methods and ornamental styles. The Bentley holdings from this period are particularly focused on Midwestern architecture, with the city of Chicago and state of Michigan strongly represented:
Jens Jensen was a principle founder of the Prairie School of landscape architecture, as well as a strong proponent of native forms and plant life in landscape design. The Jens Jensen papers (finding aid) contain original drawings, correspondence, and photographs of plant life taken by Jensen.
Campus Architecture and Education at Michigan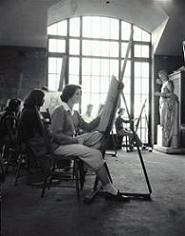 Drawing Class. 1949
College of Architecture & Design
The campus of the University of Michigan has several buildings constructed by influential architects, including Albert Kahn and Gunnar Birkerts, and reflects important trends in university architecture, such as the Collegiate Gothic style of the Law Quadrangle. Researchers interested in more information on Michigan's campus architecture should consult the Bentley Library's Historical Campus Tour Subject Guide.
Architectural design has been represented in the curriculum at the University of Michigan since 1878, with the hiring of William LeBaron Jenney, the University's first architectural professor. The Bentley Library's collections from the University can be used to study the teaching, research, and practice among faculty in a premier institution, representing broad and diverse interests in design, urban planning, and modernism. These collections include the A. Alfred Taubman College of Architecture and Urban Planning records (finding aid), and the papers of the school's first dean, Emil Lorch (finding aid).
For more regarding the history of architectural education at Michigan, see Nancy Bartlett's More Than a Handsome Box: Education in Architecture at the University of Michigan, 1876-1986 (MIRLYN record).
Architectural Modernism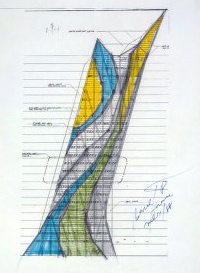 Domino's Farms Tower. 1987-1988
Gunnar Birkerts, architect
(unbuilt project)
The Bentley Historical Library has established a particularly strong set of research collections for the study of architectural modernism. These collections afford a unique insight into the intersections of East Coast and Midwest; manufacturing and design research; domestic architecture, corporate architecture, and urban form. The library houses the archival records, original drawings, records, and photographs from:
The Albert Kahn papers Finding aid include original drawings, photographs and records of this pioneering industrial architect, whose work revolutionized international factory design and inspired the development of European Modernism. Included in the Kahn papers are drawings of his important industrial, commercial, institutional and residential buildings in Detroit and the University of Michigan.
Selected Resources
Additional resources for architectural research can be found through the University of Michigan Library's MIRLYN catalog and the Bentley Historical Library's finding aids. Use keywords such as the name of the architect, firm, building, or architectural topic to locate relevant holdings.
The Bentley Library also has resources that may inform research on specific addresses or homes, including land ownership maps and city directories. For published resources dealing with the local architecture, see Ann Arbor Architecture: a Sesquicentennial Selection, by The University of Michigan Museum of Art (online copy) and Historic Buildings, Ann Arbor, Michigan, by Marjorie Reade and Susan Wineberg (online copy).
The Architects, Architecture and Landscape Design Subject Guide was updated by Lance Stuchell, June 2008.