Angell Hall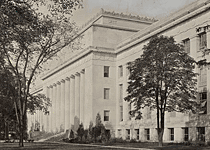 Building completed in 1924
Designed by Albert Kahn of Detroit
Contractor: U.M. Buildings and Grounds Department
Cost: $1,077,000
Net Floor Space: 152,000 square ft.
[View more images of Angell Hall]
Angell Hall was the cornerstone of the building program inaugurated by President Burton in 1920. Old University Hall could no longer house the growing College of Literature, Science and Arts. Due to overcrowding, classes were held in several other buildings, some classes were simply cancelled, and several classrooms were partitioned. Since College was central to the University's administrative and educational functions, the new building was conceived of as the central building on campus. President Burton said, "It [should] be beautiful, dignified, and commanding. It [should] help give unity and form to the entire campus." To match the appearance of surrounding structures, such as Hill Auditorium, Alumni Memorial Hall, and the Clements Library, planners of the building chose a classic design.
Albert Kahn designed the structure, which extended 480 feet along State Street. The entrance portico followed a classical model, with eight huge Doric columns surmounting a wide esplanade of steps. Several sculptures and mottos carved above the main door and the columns symbolize educational values. With four floors and 152,000 square feet of space, the building originally housed numerous classrooms and offices, and the Dean of LSA. For several years, the President and other officers also occupied offices in Angell Hall.
Source: The University of Michigan: An Encyclopedic Survey; Walter A. Donnelly, Wilfred B. Shaw, and Ruth W. Gjelsness, editors; Ann Arbor : University of Michigan Press, 1958.