Chemistry Building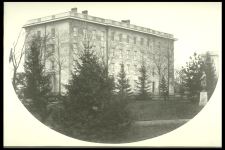 Building approved, 1908
Construction completed, 1910
Architects: Smith, Hinchman and Grylls of Detroit
Contractor: H.L. Vanderhurst
Cost: $271,000
Net Floor Space: c. 87,000 sq. ft.
Originally occupied by Chemistry Department and College of Pharmacy
In 1949, Louis Kingscott and Associates designed an addition which nearly doubled the total floor space.
[View more images of the 1909 Chemistry Building]
By 1908, the Chemistry Department had outgrown the original Chemistry Laboratory, built in 1856. The Board of regents approved a new building on June 5, 1908. It was constructed on the site of the first University Hospital, on the north side of the campus Diag, east of the Mall which extends from the Hatcher Library to the Rackham Building. The University Building Committee began the creation of architectural designs, which were completed by Smith, Hinchman and Grylls of Detroit. Completed at a cost of $271,000, the building had a net floor space of approximately 87,000 square feet.
The Chemistry Department transferred all of its labs and offices to the new building in 1909, though construction was not finished until 1910. In 1949, Louis Kingscott and Associates designed an addition on the east side of the building which nearly doubled the amount of floor space. Both the original structure and the addition contain four floors and a basement. In addition to housing several 47 laboratories, two lecture rooms and 22 offices (125 rooms in all), the building included a 290 seat amphitheatre on the first floor. The College of Pharmacy occupied several offices and laboratories in the southeast corner of the building. Still standing, the Chemistry Building has brick exterior walls, which are parapeted and coped, and a terra cotta cornice. It is a fireproof structure with bearing walls, piers and partitions made of brick. The floors and roof are primarily reinforced concrete. In the center of the structure, there is a three-story well and accessible courtyard.
Sources: The University of Michigan: An Encyclopedic Survey; Walter A. Donnelly, Wilfred B. Shaw, and Ruth W. Gjelsness, editors; Ann Arbor : University of Michigan Press, 1958