Clements Library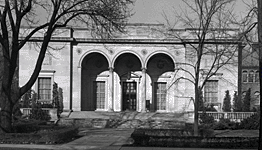 Building and collections donated by William Clements, University Regent
Built between 1922 and 1923
Architect: Albert Kahn of Detroit, supervised by William Clements
Contractor: Owen, Ames and Kimball Co.
[View more images of the Clements Library]
In May, 1921, Regent William Clements offered to donate his collection of rare books and to pay for a special building which would house them. The university provided the land by razing an old faculty house on South University Avenue, next to the President's House, and adjacent to the General Library. Albert Kahn of Detroit planned the building under Clements' supervision. Clements determined that the building be designed in the style of the Italian Renaissance, and executed with Indiana limestone. Dedicated on June 15, 1923, the library was originally estimated to cost $200,000. However, the final pricetag was considerably larger.
The main entrance to the library is approached by a broad terrace which leads up to an entrance loggia. The loggia is fronted by three rounded arches and has a vaulted ceiling with blue and gold mosaic. There are three sets of doors to the library, and the central entrance is made of bronze. Above the doors the arms of the university, of Columbus, and of Washington have been carved into the limestone. The two-story central reading room is lined with bookcases and measures 35 by 90 feet. Fumed oak paneling rises to the curved ceiling, which was painted by Thomas di Lorenzo of New York City. Lighted by several chandeliers, the room is expensively furnished in eighteenth-century style. A balcony overlooking the main reading room contains five alcoves with more bookshelves. Beyond the main room is a treasure room for the library's most valuable material. Built like a bank vault, the walls, ceiling and floor consist of reinforced concrete, while the windows are closed with steel shutters, and the doors have steel plates concealed in the wood. The basement originally contained rooms for maps, newspapers and reference works, as well as a lounge area. Currently, the lower floor still houses numerous materials such as prints and manuscripts, as well as offices and a reference area, the primary location for research use of the collections.
Source: The University of Michigan: An Encyclopedic Survey; Walter A. Donnelly, Wilfred B. Shaw, and Ruth W. Gjelsness, editors; Ann Arbor : University of Michigan Press, 1958.