Contagious Disease Hospital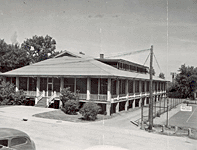 Opened in 1914
Architect: J. H. Marks, Superintendent of University Buildings and Grounds
Contractor: C. Weinberg
Measured 40 X 100 Ft.
Consists of 24 beds
At the time the Catherine Street Hospitals were erected in 1891, a small shack on the property, just behind the Homeopathic Hospital, was taken over and used as a laundry. With the removal of the heating plant to a new building in 1897, the laundry was moved into a new building, and at a cost of $200 the old building was fitted up as a separate contagious disease hospital and equipped with furniture for an additional sum of $36.15.
Here cases of diphtheria, smallpox, and scarlet fever were cared for until 1914, when the city of Ann Arbor, gave the University the money for a Contagious Disease Hospital. Conditions in the first little building had been very bad, but no steps were taken to remedy them until a smallpox epidemic developed in Ann Arbor in 1908 and the patients had to be isolated in a building hastily prepared for the purpose. The city of Ann Arbor gave $25,000, which amounted to the cost of the building without its equipment, for the twenty-four bed Contagious Disease Hospital, which was erected in accordance with plans designed by J. H. Marks, then Superintendent of Buildings and Grounds.This hospital was designed for treatment under one roof of patients with various kinds of contagious diseases, at that time a radical departure in the treatment of such cases which, however, proved eminently practical and satisfactory. The building, completed in 1914 and measuring approximately 40 by 100 feet, was erected in an isolated spot well to the east of the entire Hospital group of buildings.
Source: The University of Michigan: An Encyclopedic Survey; Walter A. Donnelly, Wilfred B. Shaw, and Ruth W. Gjelsness, editors; Ann Arbor : University of Michigan Press, 1958.