Couzens Hall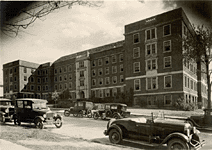 James Couzens donated $600,000 for the project
Architect: Albert Kahn
Contractors: H. G. Christman Company
Completed in 1925
Approximately 250 rooms, mostly singles
[View more images of Couzens Hall]
The four-story residence, constructed of dark red brick with white trim, consisted of a center section and two wings in the form of a letter "H."
The basement contains facilities for instruction, an amphitheater, faculty offices, laboratories, classrooms, an assembly hall, and also a game room. In addition to student rooms, on the first floor are a lobby, the reception rooms, the living room, and a library; the lobby, living room, and library are beautifully paneled in walnut. The two upper floors are devoted entirely to student rooms.
At the rear of the building, overlooking a beautiful garden and, beyond that, the women's athletic field, are sun porches, one on each floor.
Source: The University of Michigan: An Encyclopedic Survey; Walter A. Donnelly, Wilfred B. Shaw, and Ruth W. Gjelsness, editors; Ann Arbor : University of Michigan Press, 1958.