West Engineering Annex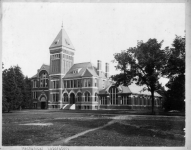 Constructed in 1885, occupied in 1886.
Architect: Gordon W. Lloyd.
Contractor: J.L. Gearing and Sons.
Cost for the original building: $9,387.00.
First addition completed early in 1888.
Second addition completed in October, 1900.
Clock and chimes from the Old General Library building installed in the Engineering Annex tower in 1918.
Building removed in 1956 to allow for the construction of the Undergraduate Library.
[View more images of the Engneering Annex]
In 1885 demands for the education of engineers were so great that the Regents authorized the construction of a laboratory to augment classroom instruction. Prior to this authorization an old carpenter shop to the northeast of the Old Engineering Building served as the college's laboratory space. The proposed building was constructed so that it abutted this original shop on its eastern side, approximately the site of the current Undergraduate Library.
Gordon W. Lloyd served as the architect for the project and the contractor, J.L. Gearing and Sons completed the structure for $9,387.00. The building was of slow-burning mill construction with brick walls and wooden floors. It stood three stories high with an attic.
Almost immediately plans began for an addition, which necessitated the removal of the old carpenter shop. The new addition, completed in early 1888, was composed of a central section with tower and a one-story wing on the west and provided offices, classrooms, drawing rooms, and laboratories. The 70 foot high tower contained a water tank with a 100 barrel capacity.
In the summer of 1900, Henry Carew and Company, of Detroit, was contracted to complete another addition to the building, which extended both the east and west wings to the south. When the Old General Library was torn down in 1918, the clock and chimes in its western tower were removed and installed in the tower of the Engineering Annex.
The completed Annex contained 42,204 square feet of floor space and was used as shops and an automotive laboratory by the College of Engineering until it was razed in 1956 to allow for the construction of an Undergraduate Library.
The University of Michigan: An Encyclopedic Survey; Walter A. Donnelly, Wilfred B. Shaw, and Ruth W. Gjelsness, editors; Ann Arbor : University of Michigan Press, 1958