Exhibit Museum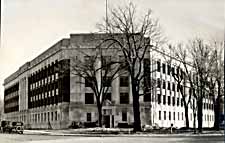 Completed in 1940
Cost: $724,952
Architect: Albert Kahn
Contractor: Spence Brothers of Saginaw
Located at 1109 Geddes
View more images of Exhibit Museum
In 1925, $900,000 was appropriated for a museum building and equipment and an act by the legislature provided for the purchase of the land for the site between North University and Washtenaw avenues (it is also bounded by Geddes and Forest). Construction began in 1927 and was completed in the spring of 1928. Albert Kahn of Detroit was the architect and Spence Brothers of Saginaw held the contract. In addition, Randolph A. Wiese designed the equipment. The building cost $724,952.
The Museums of Anthropology, Zoology, and Paleontology and the University Herbarium are all housed within the building, which is made of Bedford limestone and maroon tapestry brick. The decorative motifs are mostly animals, and the main entrance doors are perforated bronze. On the entrance facade of the parapet is the inscription, "University Museums" along with the following quotation by Louis Agassiz: "Go to Nature; take the facts into your own hands; look and see for yourself." Two puma-like figures stand on either side of the entrance.
The main entrance opens into a lobby, which is two-stories high with a balcony on the second floor. The general offices, library, and map and mailing rooms are all located on this second level. The north wing contains the working areas for the Museums of Zoology and Anthropology and the University Herbarium. The first floor of the south wing has laboratories, office, and the preparation rooms for the Museum of Paleontology. The second floor in this wing is devoted to exhibits.
Source: The University of Michigan: An Encyclopedic Survey; Walter A. Donnelly, Wilfred B. Shaw, and Ruth W. Gjelsness, editors; Ann Arbor : University of Michigan Press, 1958.