Helen Newberry Residence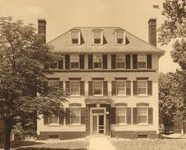 Construction completed in 1915
Architects: Kahn and Wilby, Detroit
Contractor: C.H. Christman and Co.
Cost of the original building: $75,000
Remodelled, 1934
Net floor space: 22,487 sq. ft.
In 1913, the children of Helen H. Newberry donated $75,000 for the construction of a residence hall in memory of their mother. At first, the residence belonged to the Student Christian Association, with the stipulation that the university would build and administer the property. In 1915, the Association deeded the property to the university on the condition that any profit above operating expenses would be paid to the association, for continuation of its work with women students. At the same time, the regents donated a small strip of university land, on which part of the Newberry Residence now resides. In 1924, the university purchased full ownership of the residence and all income from it, for a price of $25,000.
The Newberry Residence looks out over a wide lawn onto State Street and Angell Hall. The original building site is situated in the block surrounded by North State, Jefferson, East William and Maynard Streets. The residence site also touches the northwest corner of the lot on which Newberry Hall (now the Kelsey Museum) is located. Kahn and Wilby of Detroit built the residence for a cost of $75,000. It has four floors and a basement. Originally the ca. 75 private rooms housed ca. seventy to eighty-five female students. By 1954, after several rooms had been remodelled, the number of residents had risen to 118. The first floor originally contained the dining hall, a lounge and a reception area. After remodeling in 1934, the same area contained a sun porch, rooms for the building director, a dining area and kitchen. The exterior and bearing walls were built with brick. The floors were constructed with concrete and tile, overlaid with wood.
Sources: The University of Michigan: An Encyclopedic Survey; Walter A. Donnelly, Wilfred B. Shaw, and Ruth W. Gjelsness, editors; Ann Arbor : University of Michigan Press, 1958