Hill Auditorium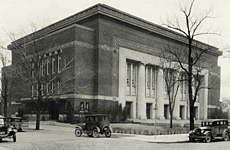 Construction completed in 1913.
Architect: Albert Kahn
James L. Stuart
Cost when completed: $282,000 (unequipped) $347,600 (fully equipped)
Total floor space: 71,914 sq. ft.
Capacity: 4,300 (in main auditorium)
[View more images of Hill Auditorium]
In 1894, Professor Stanley and two other members of the University Musical Society met and decided that the campus lacked an adequate space for performances and convocations. Plans were drawn for a new auditorium in 1895. However, after showing the plans to numerous potential donors, no funding had been obtained by 1904. In that year, Regent Arthur Hill became interested in the project. In 1910, he bequeathed $200,000 in his will toward construction of the building which would be named in his honor. Constructed on the site of the old Winchell House on North University Avenue, near State Street, the Auditorium was completed in 1913 at a cost of $282,000 without equipment, and $347,600 when fully equipped.
With a total floor space of 71,914 square feet, the main auditorium seated an audience of 4,300 in the balcony, gallery and ground floor. The stage itself could hold up to 300. The space was shaped like a parabola, for acoustic reasons, ensuring that each member of the audience experienced a similar volume and sound quality. A smaller recital and lecture hall in back of the second floor gallery could contain 400. This area housed the Stearns Collection of Musical Instruments for several years. The Frieze Memorial Organ moved to the Hill Auditorium from University Hall in 1913. Although its name remained the same, the organ was replaced with a newer model in 1928.
The exterior of the building was constructed of dull red and brown brick, with trimmings of terra cotta and grey limestone. A broad platform of cement and brick mosaic in front of the main entrance is reached by a low flight of steps rising from North University Avenue. The large main entrance is made of beige stone and features four large columns.
According to Hill's bequest the building was to be used for "the gathering of the students and college body, and their friends, on large occasions such as graduating exercises and musical festivals." Hill also declared that the auditorium be open to residents of Ann Arbor. In setting policy regarding acceptable uses of the Auditorium, the Regents barred fundraising efforts, but allowed religious gatherings, so long as they were nonsectarian. Representatives of parties and political factions were denied permission to speak on several occasions, though discussions on matters of public interest were allowed, "if conducted in the right way, by proper persons." A 1924 policy also stated, "No addresses shall be allowed...which advocate or justify conduct which violates the fundamentals of our accepted codes of morals."
Source: The University of Michigan: An Encyclopedic Survey; Walter A. Donnelly, Wilfred B. Shaw, and Ruth W. Gjelsness, editors; Ann Arbor : University of Michigan Press, 1958.