Lane Hall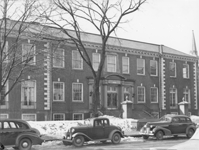 Opened on March 2, 1917
Named in honor of Victor H. Lane, member of the Law School facultyand former president of the Y.M.C.A.
Otis and Clark, architects
John D. Rockefeller gave $60,000 for the project
Cost for building (including plot and furnishings) was $125,000
Used for Y.M.C.A. student programs
Control of building passed to the Student Christian Association until1936, then to the Student Religious Association
Headquarters of Student Religious Association
For several years, the Y.M.C.A. rented Sackett and McMillan Halls on State Street from the Presbyterian Church, but due to their increased work in religious education, social service, and missions by 1911, they felt they needed a larger building. John D. Rockefeller offered $60,000 for the building, with the stipulation that the Association raise a similar amount. This additional amount was raised, and the cornerstone for the building was laid on May 16, 1916. The building was of colonial design and cost approximately $125,000.
Lane Hall opened on March 2, 1917 and was named after Victor H. Lane, member of the Law School faculty and former Y.M.C.A. President. The building contained classrooms, a large clubroom, offices, a boardroom, studies for student pastors, guest rooms, dining rooms, a kitchen, and an auditorium with seating for 450 people.
Control of the building was passed on to the Student Christian Association until 1936, when it was transferred to the Student Religious Association. The Student Religious Association currently houses its headquarters in the building.
Source: The University of Michigan: An Encyclopedic Survey; Walter A. Donnelly, Wilfred B. Shaw, and Ruth W. Gjelsness, editors; Ann Arbor : University of Michigan Press, 1958.