Law Club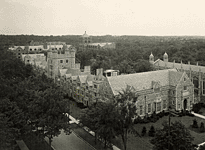 Construction completed in 1924
Architect: York and Sawyer, in consultation with William Cook and Dean Henry Bates
First completed structure on the present Law Quad
Funds donated by William Cook
[View more images of the Lawyer's Club]
Constructed between the years 1923 and 1933, the buildings of the Law Quadrangle were primarily the gift of William W. Cook. In 1920, Cook, Dean Henry Bates, and the architects, York and Sawyer, decided on a plan of four buildings, to house classrooms, dormitories, dining halls, a library, offices and meeting places. The overall style of the buildings was Tudor Gothic, modelled on the colleges at Oxford and Cambridge. The basic construction material was Weymouth seam-faced granite, with trim of Indiana limestone.
The Lawyer's Club, along with some connected dormitories, was the first building to be completed in 1924. The dorms extend 445 along South University Avenue, east of the Lawyer's Club. The Club itself faces both State Street and South University. The central feature of the Club was the great lounge on the first floor. In the Renaissance style, the lounge had a high-vaulted plaster ceiling, a white oak floor, and dark oak paneling. To the west, connected via a lobby, was an impressive Tudor Gothic dining room. The design of the room included carved ceiling beams (with the heads of famous jurists), and limestone walls with dark oak wainscoting and cathedral glass windows. The Lawyer's Club also housed guest rooms, a game room, and a faculty dining room.
Source: The University of Michigan: An Encyclopedic Survey; Walter A. Donnelly, Wilfred B. Shaw, and Ruth W. Gjelsness, editors; Ann Arbor : University of Michigan Press, 1958.