General Library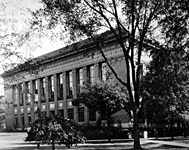 Built between 1916 and 1920
Cost: $615,000
Architects: Albert Kahn of Detroit, in consultation with William Warner Bishop, the first head librarian of the new building.
Contractor: U.M. Buildings and Grounds Department
Built on the site of the old library, the new library incorporated two fireproof bookstacks from the older building.
Gross floor space: 151,206 square feet
In 1915, the regents declared the old library building to be unsafe, due to the wood used in construction of the roof and much of the frame. Currently known as the the Harlan Hatcher Graduate Library, the General Library was built between 1916 and 1920, for $615,000, most of which came from two allocations of the Michigan state legislature. William Warner Bishop, the building's first head librarian, studied the design of library buildings in consultation with the building's architect, Albert Kahn of Detroit.
Roughly modelled on the Harvard and University of California libraries, the four-story structure was built on the site of the old library, and reused its two fireproof bookstacks. Two new bookstacks were built perpendicular to the old stacks, one on either side, and designed to permit additional construction up to a height of fifteen stories. The planners of the building took safety and fire considerations seriously. The building was constructed entirely of reinforced concrete, and each floor was isolated from the ones above and below.
The first floor entrance hallway was, and still is, decorated in a Pompeian motif, with display cases. On the right of the main entrance, a study hall once existed where the main circulation desk currently resides. At the top of two wide marble stairways was the focal point of the building, the delivery corridor. This hall originally housed the card catalog, circulation and reference areas, as well as serving as the delivery area for new acquisitions. At the west end of the hall, a serials reading room existed where the government documents center currently resides. On the north side of the second floor was the main reading room of the library, which has not changed significantly. Seating approximately 300 students, the room measures 175 by 50 feet, and is 50 feet high at the center of the barrel-vaulted ceiling. The two large frescoes at the east and west ends of the room are "The Arts of Peace" and "The Arts of War", by Gari Melchers. They were painted in 1893 for the Manufactures Building at the World's Fair in Chicago.
Source: The University of Michigan: An Encyclopedic Survey; Walter A. Donnelly, Wilfred B. Shaw, and Ruth W. Gjelsness, editors; Ann Arbor : University of Michigan Press, 1958.