Martha Cook Dormitory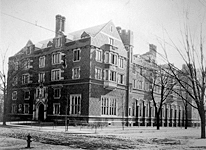 Construction begun in 1911, completed 1914
Architects: York and Sawyer of New York City
Contractor: George A. Fuller
Total Cost: $260,000
Gross Floor Space: 61,328 square feet.
Land to the east of the original building site (the old Condon home) was purchased in 1918 as a garden area.
Building funds donated by William Cook in honor of his mother, Martha Walford Cook.
[View more images of the Martha Cook Dormitory]
In honor of his mother, Martha Walford Cook, William Cook began donating funds in 1911 for the construction of a womens' dormitory on campus. Cook stipulated that the University would donate land and all utilities free of charge. Also, the University could never derive profit from the building. All income was to be reinvested in the building at the discretion of the residents themselves and a board of women governors. Initially, the dormitory was designed to house approximately 110 young women.
Located on a block between South University Avenue and Tappan Avenue,the building was designed by York and Sawyer of New York City at a cost of $260,000, with a floor space of 63,234 square feet. Externally and internally, the Cook Building is one of the most attractive and impressive on campus. Constructed of red brick and limestone, the exterior combines Tudor Gothic and early Renaissance architectural styles, with a battlemented roof, pointed arches and traceried windows. The trimmings are of cut stone in which Gothic details are accentuated, such as the rows of gargoyles in the stone cornice, and the elaborately carved main entrance. A statue of Portia, donated in 1918, stands in a niche above the entrance to the building. The east side of the building looks out onto the site of the old Condon home, which was purchased by Mr. Cook in 1918 to be used as a garden and recreation space for the Cook residents. To the south, residents have access to a tennis court, also built in 1918. Within, the building contains several expensively furnished rooms in a variety of styles.
Sources: The University of Michigan: An Encyclopedic Survey; Walter A. Donnelly, Wilfred B. Shaw, and Ruth W. Gjelsness, editors; Ann Arbor : University of Michigan Press, 1958