Laboratory Theatre (Mimes Theatre)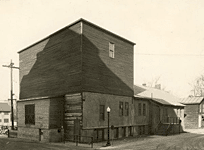 Created from part of the Union building in 1921.
Alterations to the Union cost approximately $3500
Theater had seating capacity of 400
Alterations made again to accommodate the Speech Department in 1930
Razed to make way for parking lot shortly thereafter
In 1921, part of the Union was destroyed by fire. During its renovation, the beams supporting the dance floor were opened, a stage constructed, and seats from the old University Hall were installed to create a theater. This new theater was named the Union Playhouse. It had a seating capacity of 400 and the stage measured 50 by 30 feet. Three dressing rooms, a costume room under the stage, and a screened orchestra pit were also added. These alterations cost approximately $3500.
In February, 1922, the theater was taken over by the Mimes Society, a student drama organization. Rehearsals were held here for the annual Union opera.
Meanwhile, University Hall, which was used for Play Production classes in the Speech Department, was condemned as a fire hazard. The Regents decided to rent the Mimes Theater from the Union, and presented it to the Speech Department for their use. It formally opened as the Laboratory Theater on December 1, 1930.
Only a year or two later, the Laboratory Theater itself was condemned as a fire hazard. It was boarded up and finally razed to make way for a parking lot behind the new Administration Building.
Source: The University of Michigan: An Encyclopedic Survey; Walter A. Donnelly, Wilfred B. Shaw, and Ruth W. Gjelsness, editors; Ann Arbor : University of Michigan Press, 1958.