Natural Science Building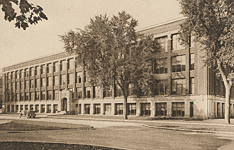 Building completed in 1915
Architect: Albert Kahn of Detroit
Contractor: Irwin and Leighton
Cost: $408,000
Net Floor Space: c. 138,000 sq. ft.
Building originally housed the departments of Botany, Geology, Mineralogy, Zoology, Psychology and the School of Natural Resources
Natural Resources Library renovated in 1953 at a cost of $210,000
[View more images of the Natural Science Building]
Faced with a lack of space for a growing science curriculum, the Regents in 1913 asked the legislature for a $375,000 appropriation for the Natural Science Building, which was granted. Designed by Albert Kahn of Detroit, the building was completed in 1915 at a final cost of $408,000. The building originally housed the departments of Botany, Geology, Mineralogy, Zoology, Psychology and the School of Natural Resources.
Situated on the south side of North University Avenue, the building faces the Hill Auditorium and stands on the site of the old Homeopathic Medical School. To the east, the building looks across the Mall at the Chemistry Building. The building forms almost a perfect square and is constructed of dark red tapestry brick with a trim of light terracotta. Kahn designed the building along principles gleaned from factory architecture, using regularly spaced steel and concrete piers for support, and maximizing the amount of light and window space. Every office is exactly the width of the space between piers or multiples of that width. Almost all the space between piers on the outside is occupied by large windows. With approximately 140,000 square feet of floor space, the building contains a 482 seat amphitheatre, and roughly 300 rooms, including 56 laboratories, 67 offices and ten lecture rooms. The building also contains an aquarium room and a botanical conservatory situated on the southeast corner. A 1953 rehabilitation of the Natural Resources Library cost $210,000.
Source: The University of Michigan: An Encyclopedic Survey; Walter A. Donnelly, Wilfred B. Shaw, and Ruth W. Gjelsness, editors; Ann Arbor : University of Michigan Press, 1958.