Newberry Hall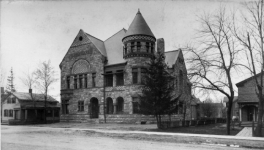 Built in 1890-1891 as the headquarters for the Students' Christian Association of the University of Michigan.
Cost to build: $40,000.00 (with furnishings).
Named in honor of John H. Newberry after an $18,000.00 gift by his wife, Mrs. Helen H. Newberry of Detroit.
Romanesque style of the building influenced by Boston architect H. H. Richardson.
Architects: Spier and Rohn, Inc., of Detroit.
In 1904, the building became the center for the campus Young Women's Christian Association.
Offered to rent the building to the University for classroom use in 1921, with the stipulation that the University pay for upkeep.
Used for classroom space until 1928, when it was adapted for use as a museum by the Department of Classical Studies.
Title to the building transferred to the University in 1937.
Museum reorganized as a separate unit in 1953 and named the Francis W. Kelsey Museum of Archaeology.
[View images of Newberry Hall / Kelsey Museum]
Built in 1890-1891 as the headquarters of the Students' Christian Association, Newberry Hall was situated directly across South State Street from University Hall. Funds for the construction of the building were collected from students, faculty and Ann Arbor citizens and from a national canvassing drive coordinated by Albert E. Jennings.
The Romanesque-style building was designed by Spier and Rohn of Detroit in the style of the Boston architect H.H. Richardson. The total cost for its construction and furnishing was $40,000.00. Mrs. Helen H.Newberry donated $18,000.00 towards the effort and secured the naming of the building in honor of her husband.
With the reorganizations of campus religious groups in the early twentieth century, the building gradually proved less useful. At the meeting of the Regents in June, 1921, the building was offered to the University for use as classrooms. A rental agreement was reached at the July Regents' meeting that same year and until 1928, Newberry Hall was used for classes in English, history and philosophy.
In 1928 the building was given over to the Department of Classical Studies for use as a museum. With the establishment of a Student Religious Association in 1937, the Board of Directors of the old Students' Christian Association transferred the title to the property to the University. The building continued to function as a museum, although in 1953 it was given status as an independent unit and its name was changed to the Francis W. Kelsey Museum of Archaeology. After closure and extensive renovations, the building again opened to the public as a museum in Fall, 1994.
Source: The University of Michigan: An Encyclopedic Survey; Walter A. Donnelly, Wilfred B. Shaw, and Ruth W. Gjelsness, editors; Ann Arbor : University of Michigan Press, 1958.