Old Library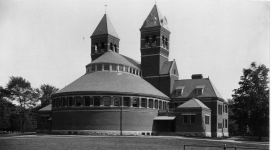 Begun in 1881, completed in 1883
Cost to build: $100,000.00
Architect: Ware and Van Brunt
Contractor: James Appleyard, of Lansing
1898 bookstack addition cost $13,450.00
Capacity after addition: 200,000 volumes
University clock and chimes installed in the building's west tower
University art collection housed in the building's second floor galleries
Declared unsafe in 1915; removed in 1918, except for the fireproof bookstacks
In 1881, the Michigan legislature set aside an appropriation of $100,000.00 to finance the construction of a library building on the University of Michigan campus. The building, as designed by the architects Ware and Van Brunt, was to serve as both a library and art gallery. The services of James Appleyard, of Lansing, were secured as contractor and construction began in 1881. The building was occupied on November 22, 1883, and formally dedicated on December 12 of that same year. An addition to the library's bookstacks--increasing its capacity to 200,000 volumes--was planned and executed in 1898 at a cost of $13,450.00.
The Library building, with its twin towers and the curving red brick walls of its reading room, was long a campus landmark. The west tower contained the University clock, as well as five bells--the gift of E.C. Hegeler, J.J. Hagerman, and President Andrew D. White of Cornell University--which struck the Westminster chimes on the quarter hour.
The first floor of the building housed the semi-circular reading room, with a circulation desk situated in front of the entrance to the fireproofed steel and brick bookstacks. Students in the reading room, furnished with desks and swivel chairs, were separated by gender. The second floor of the building housed the University's art collections, principally that donated by Henry C. Lewis, of Coldwater, Michigan, in 1895. This collection consisted of many original artworks, as well as copies of paintings and statuary from European galleries.
In 1915, the building was declared unsafe and the Regents appealled to the legislature for funds for a new library building. Initial plans to enlarge and reinforce the old building fell through because of the flammability of the wood used in its construction. All of the building except the fireproof bookstacks was removed in 1918 to allow for the construction of what is now the north building of the Harlan Hatcher Graduate Library. The bookstacks of the old Library building formed the nucleus of the new construction.
Source: The University of Michigan: An Encyclopedic Survey; Walter A. Donnelly, Wilfred B. Shaw, and Ruth W. Gjelsness, editors; Ann Arbor : University of Michigan Press, 1958.