Horace Rackham School of Graduate Studies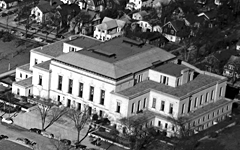 Given to University in 1935 by trustees of the Horace H. Rackham and Mary A. Rackham Fund
Gift amounted to more than $10 million dollars
30 buildings had to be removed before construction began
Building formally dedicated in June 1938
Architects: Smith, Hinchman and Grylls
Contractors: W.E. Wood Company
Landscape Architects: Pitkin and Mott
[View more images of the Horace Rackham School of Graduate Studies Building]
The Horace H. Rackham School of Graduate Studies building is located on the north side of campus at the north side of the mall. It comprises two city blocks, between East Huron, Fletcher, East Washington, and Thayer streets.
The building was made possible by a generous gift from the trustees of the Horace H. Rackham and Mary A. Rackham Fund, which eventually came to more than $10 million dollars. Ground was broken in May 1936, and the building was completed in June 1938. Smith, Hinchman and Grylls were chosen as architects, the W.E. Wood Company took care of the contracting, and the landscape was designed by Pitkin and Mott.
The building is 196 by 250 feet and constructed of Indiana limestone with a granite base. The window and door frames are bronze, and the roof is copper. The first floor houses a lecture hall, administrative offices, and a study hall with twelve-foot wainscot of Appalachian oak. The second floor houses two lounges—a men's lounge on the east, and a women's lounge on the west.
In the planning of the Rackham Building, it was intended that space would be available for limited periods for individual faculty research projects. The demands of war services and teaching, however, almost at once took over all available free space in the building until the end of World War II.
Sources: The University of Michigan: An Encyclopedic Survey; Walter A. Donnelly, Wilfred B. Shaw, and Ruth W. Gjelsness, editors; Ann Arbor : University of Michigan Press, 1958