Stockwell Hall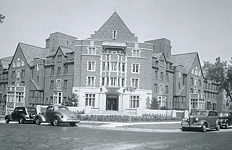 Funded by grant from the Federal Emergence Administration of Public Works.
Opened in February 1940.
Architects: C. William Palmer of Detroit
Contractors: Walbridge Aldinger Company
Named after Madelon Louisa Stockwell, the first woman to be admitted to the University.
Dormitory is five stories high, made of brick with limestone and
timber trim.


[View more images of Stockwell Hall]
The building expansion plans of the University gained impetus in September 1938, when announcement was made of a grant by the Federal Emergency Administration of Public Works (PWA), making possible a new $1,000,000 dormitory for women. The offer "in the amount of 45 per cent of the cost of the project upon completion …, but not to exceed in any event, the sum of $450,000," was formally accepted by the Regents on October 18, 1938 (R.P., 1936-39, p. 714). The University's share was obtained through the sale of revenue bonds, which were retired over a period of years by the net earnings of the dormitory.
The new residence hall was erected at the corner of North University Avenue and Observatory Street, between Mosher-Jordan Halls and the Women's Athletic Building. The construction of the building was reported to have been through the efforts of Regents John D. Lynch and Edward C. Shields. The residence forms a right angle L, with wings extending approximately 250 feet along each of the two streets.
C. William Palmer, of Detroit, was appointed as architect, and Walbridge Aldinger Company, a Detroit firm, was awarded the construction contract in February 1939.
Madelon Louisa Stockwell Hall, opened in February, 1940, is named in tribute to Madelon Louisa Stockwell (Albion '62, Michigan '72, A.M. hon. ibid. '12), the first woman to be admitted to the University.
The building is five stories in height and is constructed of brick with limestone and timber trim. Two steeply peaked roof sections in each wing flank the central façade of the main entrance, which faces the exact corner of the two streets at an angle to the two wings. Within the right angle formed by the wings is one of Stockwell Hall's intrinsically unique features — a semicircular section two stories in height in which on the ground or first floor are the two dining rooms, each with its own serving room, and the kitchen, laundry, an area for storing luggage, and two corridors of student rooms.
The immense lounge on the second floor directly above the dining area joins the two wings of the building. The second floor also houses the main offices and a corridor of student rooms in each wing. At one end of the lounge is a well-stocked library and at the other end, a recreation room. There is also a sun room in each wing on the first and second floors and at the center of the building on the third, fourth, and fifth floors.
Sources: The University of Michigan: An Encyclopedic Survey; Walter A. Donnelly, Wilfred B. Shaw, and Ruth W. Gjelsness, editors; Ann Arbor : University of Michigan Press, 1958