Student Publications Building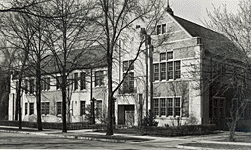 Located at 420 Maynard Street.
Building completed in 1932
Architects: Pond and Pond of Chicago
Contractors: Lovering and Longbotham
Land purchased and building constructed soley through profits from student publications.
Cost of land: $60,000
Cost of building: $74,000
The editorial offices of the principal student publications under the Board in Control of Student Publications and the printing facilities for the Michigan Daily are housed in the Student Publications Building at 420 Maynard Street, across from Betsy Barbour and Helen Newberry residences. In December 1926, the Regents authorized the Board in Control of Student Publications to acquire property of approximately 132 feet on Maynard Street for the erection of a student publications building (R.P., 1926-29, p. 113). In January 1931, plans for the proposed building were presented by the President. The building, completed in 1932, was designed by Pond and Pond, of Chicago, and was constructed by Lovering and Longbotham, of St. Paul, Minnesota. Edson R. Sunderland of the Law School was supervising business manager of the project.
The land was purchased and the building was constructed and equipped entirely out of profits from student publications. The total cost of the land was $60,000, and the cost of the building was $74,000. A capital investment of almost $300,000 is represented in the land, building, and equipment — considered the finest college newspaper plant in the country.
The exterior of the building, which has a street frontage of 125 feet and is 50 feet deep, is of red brick with a white stone entrance similar to that of the Michigan Union and the Michigan League, which were designed by the same architects.
On the first floor is a large conference room and an editorial office shared by Gargoyle, the humor magazine, and Generation, the arts magazine. The largest area, however, is devoted to the modern printing plant, including a composing room with four linotype machines, a Ludlow machine, a Fairchild photoelectric engraver, and other equipment; the pressroom housing the $70,000 Goss Unitube rotary press, casting machines, and paper storage; and the darkroom.
The second floor houses the editorial and business offices of the Michiganensian, the yearbook, and a combined business office for all publications. The remainder of the large area is devoted to the editorial and business staffs of The Michigan Daily and contains a small office for the senior editors and a large city room with space for both business and editorial staff operations.
When the building was first occupied, because of lack of funds with which to replace them, the old counters, furniture, and typewriters were brought over from the former quarters in the Ann Arbor Press Building. In the summer of 1937 the offices were completely equipped with new typewriters and with new desks, chairs, tables, filing cases, and counters (Shaw and Rinkel).
Sources: The University of Michigan: An Encyclopedic Survey; Walter A. Donnelly, Wilfred B. Shaw, and Ruth W. Gjelsness, editors; Ann Arbor : University of Michigan Press, 1958