West Engineering Building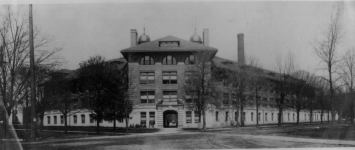 Construction authorized by the Regents in 1901, to cost no more than $100,000.00
Building completed: September, 1904
Architect: Mason and Kahn, of Detroit
Contractor: Charles Hoertz and Son, of Grand Rapids
Cost to build: $275,000.00
Net floor space as built: 94,318 sq. ft.
1909-1910 addition added 63,000 sq. ft.
Occupied by the College of Engineering until its move to North Campus in [xxxx]
Now occupied by various units of the College of Literature, Science and the Arts and by the School of Information and Library Studies
[View more images of West Engineering Building]
On November 26, 1901, the Regents set aside funding amounting to $100,000.00 for the construction of a new building for the College of Engineering. The plans of the architect, Mason and Kahn, of Detroit, were accepted in March, 1902, and a contract was awarded in June of that year to Charles Hoertz and Son, of Grand Rapids. The cost of the building was not to exceed $140,000.00; this sum included funding for a tile roof for the building.
Construction of the building proceeded slowly, and in July, 1903, the Regents served notice to the contractor threatening to take completion of the building into the hands of the Board of Regents if it was not completed in a timely manner. The building was finally completed in September, 1904, at a final cost of $275,000.00 and was known in its early days as the New Engineering Building.
The building was constructed of steel reinforced concrete with outer walls of brick and stone. The net floor space in the building was 94,318 square feet. The problem of the building blocking the southeastern end of the Diag was addressed by Professor Charles Simeon Denison in a sketch of an arch--which allowed the Diag to pass through the new building--sent to the architect and eventually incorporated into the building plans. The arch was known as the Denison Arch after a bronze tablet in memory of Denison was placed inside it in 1914.
The building was utilized for offices, classrooms and laboratories for the College of Engineering, which quickly overwhelmed the space available in the building. In 1909-1910, the east wing of the building, along East University, was extended, providing an additional 63,000 square feet of space. With the construction in 1923 of another engineering building directly across East University, the New Engineering Building was renamed the West Engineering Building, while the newer structure was known as the East Engineering Building.
Source: The University of Michigan: An Encyclopedic Survey; Walter A. Donnelly, Wilfred B. Shaw, and Ruth W. Gjelsness, editors; Ann Arbor : University of Michigan Press, 1958.