West Hall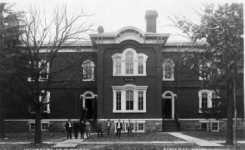 Built during 1862-1863 by the City of Ann Arbor as a public school
Known as the 1st Ward School
Purchased from the Board of Education by the University in 1901 for $16,000.00
Net floor space: 9,824 sq. ft.
Razed in 1923 after the construction of Betsy Barbour House directly behind it
This small brick building, containing only 9,824 square feet, was constructed in 1862-1863 as a public school--known as the 1st Ward School. Overcrowding in University Hall and the rapid growth of the College of Literature, Science, and the Arts at the turn of the century, necessitated the purchase of the building by the University even though it was not an ideal college classroom building. The transaction took place in November, 1901, for the price of $16,000.00.
The building was first used by the University for classes in English, modern languages and forestry, but was later turned completely over to the Department of Rhetoric. The President's Report for 1922-1923 detailed some of the building's problems, noting its "creaking, splintered floors, its steep narrow staircases, its small rooms [and] its lack of office space." After the construction of Betsy Barbour House directly behind it 1920, the decision was made by the Regents to raze West Hall, which was accomplished in 1923.
Source: The University of Michigan: An Encyclopedic Survey; Walter A. Donnelly, Wilfred B. Shaw, and Ruth W. Gjelsness, editors; Ann Arbor : University of Michigan Press, 1958.