Women's Athletic Building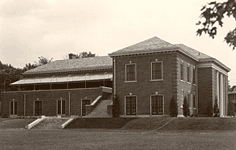 Completed in 1928
Architect: Fry and Kasurin of Ann Arbor
Contractor: Spence Brothers
Cost: $154,000
Net floor area: 27,387 sq. ft.
Consists of two stories and a basement
In the basement is a four-lane bowling alley, a sixty-foot rifle range, and ten indoor golf cages
[View more images of the Women's Athletic Building]
The Women's Athletic Building on Palmer Field was erected in 1928 as part of the program in physical education for women undertaken by the University Board in Control of Physical Education two years earlier. For some years the athletic activities of the women of the University had been centered at Palmer Field, an uneven and rather hilly tract of land south of the hospitals and the Observatory. With the development of the extensive athletic program for the entire University, which took place with the erection of the Stadium and the intramural Sports Building, provision was made for the women by leveling Palmer Field and erecting a suitable field house on it.
The Women's Athletic Building, on Forest Avenue, at the east end of North University Avenue, was constructed at a total cost of $154,000. It has two stories and a basement, and a floor area of 27,387 square feet. Designed by the Ann Arbor architects, Fry and Kasurin, it is built of red brick with white pillars at the front, in a simple Georgian tradition. The building was used as an athletic club, where social occasions could be combined with active sports participation. The big terrace which overlooked the playing fields was provided with colorful umbrellas, tables, and chairs.
The first floor housed the main office for the distribution of sports equipment, the main lockers, dressing rooms, showers, and the equipment-storage room. In the basement was a four-lane bowling alley, a sixty-foot rifle range, and ten indoor golf cages.
The Women's Atheltic Building was demolished ca. 1975 to make way for the Central Campus Recreation Building and Margaret Bell Pool.
Sources: The University of Michigan: An Encyclopedic Survey; Walter A. Donnelly, Wilfred B. Shaw, and Ruth W. Gjelsness, editors; Ann Arbor : University of Michigan Press, 1958