59

-

51

- 6*

Michigan dominated the early years of the rivalry, compiling a 12-0-2 record in non-conference match-ups, 1897-1912. (Ohio State joined the Western Conference in 1912, but Michigan left the conference between 1907 and 1917.) Fielding Yost's 1901-1905 "point a minute" teams outscored the Buckeyes 214-6.


Michigan captain "Boss" Weeks about to stop Ohio for a loss.
1902 game at Regents Field, Ann Arbor
Michigan won the first conference game between the schools in 1918, but Ohio State then ran off three consecutive wins as Coach Wilce took the measure of Fielding Yost. Michigan responded with a five game winning streak before Ohio State closed the twenties with two victories. Michigan had a 7-5 advantage in the first 12 years of conference play.
Michigan held the edge at the beginning and end of the thirties, but Ohio State thoroughly dominated the middle years. Michigan was 3-1 against Ohio State enroute to claiming four conference titles and two national championships from 1930 to 1933. Ohio State then reeled off four consecutive shutouts, outscoring the Wolverines 112-0. Tom Harmon and Forrest Evashevski led a revived Michigan program to victories in 1938 and 1939. Harmon closed his career with a brilliant performance - rushing for 2 touchdowns, throwing for two, returning an interception for a score and converting 4 extra-points - in Michigan's 40-0 victory at Columbus in 1940.
Ohio State's 1942 national champions defeated Michigan 21-7, but the Buckeyes managed only one more series win during the forties as UM compiled a 6-2-2 advantage. Michigan opened the 1950s with an upset victory in the "Snow Bowl" and defeated Woody Hayes' in his first UM-OSU game in 1951. Over the next eighteen years, teams led by Hayes posted a 12-6 record in the big game. "Bo" and Woody were close to even over the next ten years and then Earl Bruce posted a 5-4 record against Schembechler to complete a 20-year stretch in which only once was a team able to win three games in a row. (UM, 1976-1978). Beginning with Bo's last season, Michigan entered a period of dominance, posting a 9-2-1 record for 1989-2000. Jim Tressel revived the Buckeye's fortunes with wins in 2001 and 2002, becoming the second Ohio State coach to go 2-0 against the Wolverines. With his win in 2009 Tressel became the first coach to win six in a row since Fielding Yost won nine from 1901-1909. The last time a team won six games in succession was Michigan's streak of six wins, 1922-1927 under coaches Yost, Little and Wieman. With the 2009 loss, Rich Rodriguez became the first Michigan coach to go 0-2 against the Buckeyes.
In a matchup of a first year coaches in 2011, Brady Hoke and the surprising Wolverines defeated interim coach Luke Fickell's Buckeyes 40-34. The following year started a new Ohio State streak, with Urban Meyer winning six in a row, including a 42-13 win in Jim Harbaugh's series debut in 2015. In the first overtime game in series history, Meyer extended his streak in 2016 with a 30-27 double overtime win. He joined Fielding Yost as the only coaches to win their first five rivalry games. Meyer continued his mastery over the Wolverines with a 31-20 victory enroute to an undisputed division title and conference championship. Both teams brought 10-1 records to the 2018 showdown for the Eastern Division title. The 4th ranked Wolverines were undefeated in conference play while the #10 Buckeyes had one loss. Redshirt sophomore quarterback Dwayne Haskins led the Buckeyes to a dominant 62-39 win, extending Meyer's unbeaten streak to seven games. Ryan Day succeeded Uram Meyer as head coach in 2019 and kept the OSU streak going, leading the #2 ranked Buckeyes to a 56-27 victory at Michigan Stadium. The 2020 game fell vicitm to the Covid epidemic when Michigan was forced to cancel its final three games.
After stumbling to a 2-4 record in the shortened 2020 season, Michigan was unranked entering 2021, while the Buckeyes were expected to compete for the national title. The Eastern Division title was at stake when the #6 ranked Wolverines (7-1 on conference play) met #2 Ohio State (8-0) in Ann Arbor. Michigan thoroughly dominated the game enroute to a 42-27 win, with Hassan Haksins scoring a series record five touchdowns. The Wolverines defeated Iowa in the Conference title game to claim their first Big Ten crown since 2004.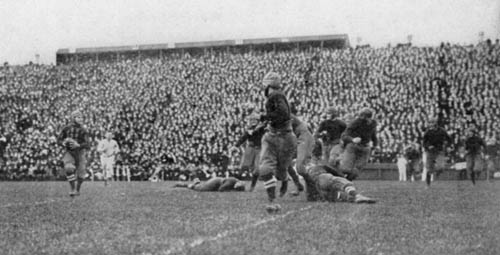 Ohio State All-American halfback Chic Harley scored on a 40-yard run in OSU's first series victory in 1919.
The Michigan yearbook's caption for the photo read:
"This is the play that gave Ohio the victory. Harley is making up his mind whether to pass to Stinchcomb or to plunge through Michigan's bewildered line."
--------------------------------------------------------------------------------------------------------------
* Ohio win total does not include 2010 win vacated as a result of NCAA violations.
---
All-Time UM-OSU Results

Date
Site
Ranking
Results
Big 10 Finish
Attendance
UM
OSU
W
UM
OSU
UM
OSU
10/16/1897
Ann Arbor
UM
36
0
3rd
*
11/24/1900
Ann Arbor
T
0
0
5th
*
11/9/1901
Columbus
UM
21
0
1st
*
10/25/1902
Ann Arbor
UM
86
0
1st
*
11/7/1903
Ann Arbor
UM
36
0
1st
*
5,000
10/15/1904
Columbus
UM
31
6
1st
*
8,000
11/11/1905
Ann Arbor
UM
40
0
2nd (T)
*
8,000
10/20/1906
Columbus
UM
6
0
1st (T)
*
6,000
10/26/1907
Ann Arbor
UM
22
0
*
*
7,000
10/24/1908
Columbus
UM
10
6
*
*
10/16/1909
Ann Arbor
UM
33
6
*
*
10/22/1910
Columbus
T
3
3
*
*
10/21/1911
Ann Arbor
UM
19
0
*
*
5,000
10/19/1912
Columbus
UM
14
0
*
*
10,000
11/30/1918
Columbus
UM
14
0
1st (T)
9th
7,000
10/25/1919
Ann Arbor
OSU
3
13
7th
2nd
25,000
Date
Site
Ranking
Results
Big 10 Finish
Attendance
UM
OSU
W
UM
OSU
UM
OSU
11/6/1920
Columbus
OSU
7
14
6th (T)
1st
10/22/1921
Ann Arbor (HC)
OSU
0
14
5th (T)
2nd (T)
45,000
10/21/1922
Columbus
UM
19
0
1st (T)
8th
71,000
10/20/1923
Ann Arbor
UM
23
0
1st (T)
8th
50,000
11/15/1924
Columbus
UM
16
6
4th
7th (T)
70,000
11/14/1925
Ann Arbor
UM
10
0
1st
8th
47,000
11/13/1926
Columbus
UM
17
16
1st (T)
3rd
90,411
10/22/1927
Ann Arbor
UM
21
0
3rd
6th
84,401
10/20/1928
Columbus
OSU
7
19
7th
4th (T)
72,439
10/19/1929
Ann Arbor
OSU
0
7
8th
5th (T)
85,088
Date
Site
Ranking
Results
Big 10 Finish
Attendance
UM
OSU
W
UM
OSU
UM
OSU
10/18/1930
Columbus
UM
13
0
1st (T)
4th (T)
68,459
10/17/1931
Ann Arbor
OSU
7
20
1st (T)
4th
58,026
10/15/1932
Columbus
UM
14
0
1st (T)
4th
40,700
10/21/1933
Ann Arbor (HC)
UM
13
0
1st (T)
3rd
82,606
11/17/1934
Columbus
OSU
0
34
10th
2nd
62,893
11/23/1935
Ann Arbor
OSU
0
38
5th (T)
1st (T)
53,322
11/21/1936
Columbus
18
OSU
0
21
8th (T)
2nd (T)
56,277
11/20/1937
Ann Arbor
19
OSU
0
21
4th (T)
2nd
56,766
11/19/1938
Columbus
17
UM
18
0
2nd (T)
5th
64,413
11/25/1939
Ann Arbor
6
UM
21
14
4th (T)
1st
78,815
Date
Site
Ranking
Results
Big 10 Finish
Attendance
UM
OSU
W
UM
OSU
UM
OSU
11/23/1940
Columbus
7
UM
40
0
2nd
4th (T)
73,480
11/22/1941
Ann Arbor
5
14
T
20
20
2nd (T)
2nd (T)
84,581
11/21/1942
Columbus
4
5
OSU
7
21
3rd (T)
1st
71,691
11/20/1943
Ann Arbor
4
UM
45
7
1st (T)
8th
39,139
11/25/1944
Columbus
6
3
OSU
14
18
2nd
1st
70,449
11/24/1945
Ann Arbor (HC)
8
7
UM
7
3
2nd
3rd
85,200
11/23/1946
Columbus
8
UM
58
6
2nd
6th (T)
79,735
11/22/1947
Ann Arbor
1
UM
21
0
1st
9th
85,938
11/20/1948
Columbus
1
18
UM
13
3
1st
4th
78,603
11/19/1949
Ann Arbor
5
7
T
7
7
1st (T)
1st (T)
97,239
Date
Site
Ranking
Results
Big 10 Finish
Attendance
UM
OSU
W
UM
OSU
UM
OSU
11/25/1950
Columbus
8
UM
9
3
1st
2nd
79,868
11/24/1951
Ann Arbor
UM
7
0
4th
5th
93,411
11/22/1952
Columbus
12
OSU
7
27
4th
3rd
81,541
11/21/1953
Ann Arbor
UM
20
0
5th
4th
87,048
11/20/1954
Columbus
12
1
OSU
7
21
2nd (T)
1st
78,447
11/19/1955
Ann Arbor
6
9
OSU
0
17
3rd (T)
1st
97,369
11/24/1956
Columbus
9
12
UM
19
0
2nd
4th (T)
78,830
11/23/1957
Ann Arbor
19
3
OSU
14
31
6th
1st
101,001
11/22/1958
Columbus
11
OSU
14
20
7th
3rd
79,771
11/21/1959
Ann Arbor
UM
23
14
7th
8th (T)
88,804
Date
Site
Ranking
Results
Big 10 Finish
Attendance
UM
OSU
W
UM
OSU
UM
OSU
11/19/1960
Columbus
10
OSU
0
7
5th
3rd
83,107
11/25/1961
Ann Arbor
2
OSU
20
50
6th
1st
80,444
11/24/1962
Columbus
OSU
0
28
10th
3rd (T)
82,349
11/30/1963
Ann Arbor
OSU
10
14
5th (T)
2nd (T)
36,424
11/21/1964
Columbus
6
7
UM
10
0
1st
2nd
84,685
11/20/1965
Ann Arbor
OSU
7
9
7th (T)
2nd
77,333
11/19/1966
Columbus
UM
17
3
3rd (T)
6th
84,403
11/25/1967
Ann Arbor
OSU
14
24
5th (T)
4th
64,144
11/23/1968
Columbus
4
2
OSU
14
50
2nd
1st
85,371
11/22/1969
Ann Arbor
12
1
UM
24
12
1st (T)
1st (T)
103,588
Date
Site
Ranking
Results
Big 10 Finish
Attendance
UM
OSU
W
UM
OSU
UM
OSU
11/21/1970
Columbus
4
5
OSU
9
20
2nd (T)
1st
87,331
11/20/1971
Ann Arbor
3
UM
10
7
1st
3rd (T)
104,016
11/25/1972
Columbus
3
9
OSU
11
14
1st (T)
1st (T)
87,040
11/24/1973
Ann Arbor
4
1
T
10
10
1st (T)
1st (T)
105,233
11/23/1974
Columbus
3
4
OSU
10
12
1st (T)
1st (T)
88,234
11/22/1975
Ann Arbor
5
3
OSU
14
21
2nd
1st
105,543
11/20/1976
Columbus
4
8
UM
22
0
1st (T)
1st (T)
88,250
11/19/1977
Ann Arbor
5
4
UM
14
6
1st (T)
1st (T)
105,312
11/25/1978
Columbus
6
16
UM
14
3
1st (T)
4th
88,358
11/17/1979
Ann Arbor
13
2
OSU
15
18
3rd
1st
106,255
Date
Site
Ranking
Results
Big 10 Finish
Attendance
UM
OSU
W
UM
OSU
UM
OSU
11/22/1980
Columbus
10
5
UM
9
3
1st
2nd
88,827
11/21/1981
Ann Arbor
7
OSU
9
14
3rd (T)
1st
106,043
11/20/1982
Columbus
13
OSU
14
24
1st (T)
2nd
90,252
11/19/1983
Ann Arbor
8
10
UM
24
21
2nd
4th
106,115
11/17/1984
Columbus
11
OSU
6
21
6th
1st
90,286
11/23/1985
Ann Arbor
6
12
UM
27
17
2nd
4th (T)
106,102
11/22/1986
Columbus
6
7
UM
26
24
1st (T)
1st (T)
103,169
11/21/1987
Ann Arbor
OSU
20
23
4th
5th
106,031
11/19/1988
Columbus
12
UM
34
31
1st
7th
90,176
11/25/1989
Ann Arbor
3
20
UM
28
18
1st
3rd
103,450
Date
Site
Ranking
Results
Big 10 Finish
Attendance
UM
OSU
W
UM
OSU
UM
OSU
11/24/1990
Columbus
15
19
UM
16
13
1st (T)
5th
90,054
11/23/1991
Ann Arbor
4
18
UM
31
3
1st
3rd
106,156
11/21/1992
Columbus
6
17
T
13
13
1st
2nd
95,330
11/20/1993
Ann Arbor
5
UM
28
0
4th
1st (T)
106,867
11/19/1994
Columbus
15
22
OSU
6
22
3rd
2nd
93,869
11/25/1995
Ann Arbor
18
2
UM
31
23
3rd
2nd
106,288
11/23/1996
Columbus
21
2
UM
13
9
5th (T)
1st
94,676
11/22/1997
Ann Arbor
1
4
UM
20
14
1st
2nd
106,982
11/21/1998
Columbus
11
7
OSU
16
31
1st (T)
1st (T)
94,339
11/20/1999
Ann Arbor
10
UM
24
17
2nd (T)
8th
111,575
Date
Site
Ranking
Results
Big 10 Finish
Attendance
UM
OSU
W
UM
OSU
UM
OSU
11/18/2000
Columbus
19
12
UM
38
26
1st (T)
4th
98,568
11/24/2001
Ann Arbor
11
OSU
20
26
2nd (T)
3rd
111,571
11/23/2002
Columbus
12
2
OSU
9
14
3rd
1st
105,539
11/22/2003
Ann Arbor
5
4
UM
35
21
1st
2nd
112,118
11/20/2004
Columbus
7
OSU
21
37
1st (T)
5th (T)
105,456
11/19/2005
Ann Arbor
17
8
OSU
21
25
3rd (T)
1st (T)
111,591
11/18/2006
Columbus
2
1
OSU
39
42
2nd (T)
1st
105,708
11/17/2007
Ann Arbor
23
7
OSU
3
14
2nd (T)
1st
111,941
11/22/2008
Columbus
10
OSU
7
42
9th (T)
1st (T)
105,564
11/21/2009
Ann Arbor
9
OSU
10
21
10th (T)
1st
110,992
Date
Site
Ranking
Results
Big 10 Finish
Attendance
UM
OSU
W
UM
OSU
UM
OSU
11/27/2010
Columbus
8
OSU$
7
37
7th (T)
1st (T)
105,491
11/26/2011
Ann Arbor
17
UM
40
34
2nd+
4th+
114,132**
11/24/2012
Columbus
20
4
OSU
21
26
2nd+
1st+
105,899
11/30/2013
Ann Arbor
3
OSU
41
42
5th+
1st+
113,511
11/29/2014
Columbus
7
OSU
28
42
4th@
1st@
108,610
11/28/2015
Ann Arbor
12
8
OSU
13
42
3rd@
2nd@
111,829
11/26/2016
Columbus
3
2
OSU
27
30
3rd@
1st (T)@
110,045**
11/25/2017
Ann Arbor
-
8
OSU
20
31
4th@
1st @
112,028
11/24/2018
Columbus
4
10
OSU
39
62
1st(T)@
1st (T)@
106,588
11/30/2019
Ann Arbor
10
2
OSU
27
56
3rd@
1st @
112,071
12/12/2020
Columbus
cancelled
5th@
1st @
11/27/2021
Ann Arbor
6
2
UM
42
27
1st (T)@
1st (T)@
111,156

* = not in Big Ten Conference
$ =Ohio vacated win as result of NCAA penalties
+= finish in Legends/ (UM) and Leaders (Ohio) divisions
@=finish in Eastern division
**=stadium record