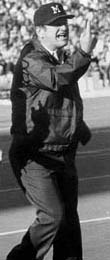 Bo makes a point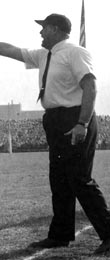 Woody makes a point
The Ten Year War

Of all the coaching match-ups in the long Michigan-Ohio State rivalry, none has been more intense and at times bitter than that between Woody Hayes and "Bo" Schembechler. For ten years the two dominated the "Big 2 and Little 8," splitting ten conference titles between and finishing second eight times. Hayes supposedly could not bring himself to speak the name of "that school up north" and Schembechler, who played for Hayes at Miami of Ohio and was an Ohio State assistant coach, savored nothing more than putting it to his old mentor. After a decade of memorable on-field stratagems, sideline antics, and locker room psychological ploys, the two coaches came out almost dead-even, Schembechler holding a slim 5-4-1 advantage.
---
Wayne Woodrow Hayes
Glenn E. Schembechler
Feb. 14, 1913
Birthdate
April 1, 1929
Newcomerstown, OH
(born in Clifton, OH)
Hometown
Barberton, OH
Denison University, 1935
College
Miami of Ohio, 1951
Denison University, 1946-1948
Miami of Ohio, 1949-1950

Prior Coaching
Experience
Ohio State, 1952-53 (graduate assistant)
Presbyterian College, 1954 (assistant)
Bowling Green, 1955 (assistant)
Northwestern, 1958 (assistant)
Ohio State, 1959-1963 (assistant)
Miami of Ohio, 1964-1968
238-72-10
Career Record
234-65-8
191-1978
28 seasons
Years at OSU/UM
1969-1989
21 seasons
20-61-10
OSU/UM Record
194-48-
12-38-7
Big Ten Record
143-24-3
16-11-1
UM vs OSU
11-9-1
4--1
Woody vs "Bo"
-4-1
13
Big Ten Titles
13
5
National Championships
0
4-4
Rose Bowl Record
2-8-0
5-6
All Bowl Games
5-12-0
56
All-Americans
39
3
Heisman Trophy Winners
0
29
1st Round Picks
13
2
National Coach of the Year
1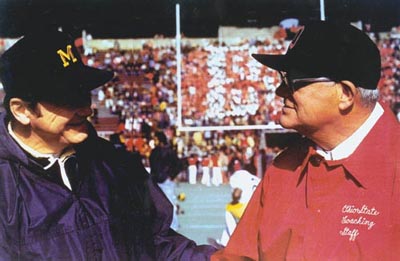 Bitter rivals on the field, Woody and "Bo" had a deep respect
for each other and their mutual commitment to winning.
Woody on Bo:
"If 'Bo' is not a winner, I never saw one and I should know. He beat me the last three games we played. We've fought and quarreled for years but we're great friends." [Quoted in The Lantern February 10, 1986.]
Bo on Woody:
"There was plenty to criticize about Woody Hayes. His methods were tough, his temper was, at times, unforgivable. And, unless you knew him or played for him, it is hard to explain why you liked being around the guy. But you didn't just like it, you loved it. He was simply fascinating." [From Bo by "Bo" Schembechler and Mitch Albom.]
Ufer on Woody and Bo:
Michigan radio announcer Bob Ufer recites his epic "Burying Wood Hayes"
---
Woody vs Bo, 1969-1978
Ranking
Results
Big 10 Finish
Date
Site
UM
OSU
W
UM
OSU
UM
OSU
Attendance
11/22/1969
Ann Arbor
12
1
UM
24
12
1st (T)
1st (T)
103,588
11/21/1970
Columbus
4
5
OSU
9
20
2nd (T)
1st
87,331
11/20/1971
Ann Arbor
3


UM
10
7
1st
3rd (T)
104,016
11/25/1972
Columbus
3
9
OSU
11
14
1st (T)
1st (T)
87,040
11/24/1973
Ann Arbor
4
1
T
10
10
1st (T)
1st (T)
105,233
11/23/1974
Columbus
3
4
OSU
10
12
1st (T)
1st (T)
88,234
11/22/1975
Ann Arbor
5
3
OSU
14
21
2nd
1st
105,543
11/20/1976
Columbus
4
8
UM
22
0
1st (T)
1st (T)
88,250
11/19/1977
Ann Arbor
5
4
UM
14
6
1st (T)
1st (T)
105,312
11/25/1978
Columbus
6
16
UM
14
3
1st (T)
4th
88,38