Michigan's Bowl Game History
1989 Rose Bowl
<! --BEGIN PORGRAMS-->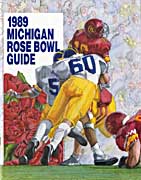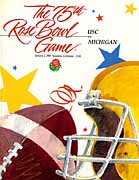 Michigan vs Southern Calfornia
Pasadena, California
Jan. 2, 1989
Attendance: 101,688
Scoring by Quarter
Michigan
3
0
6
13
22
USC
0
14
0
0
14
<! --END PORGRAMS-->
Coming off one of the toughest Ohio State games in recent history, many questioned whether or not Michigan could withstand a team that led the Pac-10 in rushing defense, total defense, and was offensively led by Rodney Peete, the 1988 Heisman Trophy runner-up.
1988 Team Photo


view larger image
Michigan's first possession was highlighted by a 21-yard completion from Demetrius Brown to John Kolesar on the fourth play of the drive. U-M controlled the ball for 7:51 on 13 plays until it was stopped by the Trojan defense. Mike Gillette was called in to cap the drive with a 49-yard field goal with 4:07 remaining in the quarter.
At the beginning of the second quarter, the Trojan offense came to life. USC moved from its own 46-yard line to the Wolverine 22. Each side turned the ball over, however, before the Trojans scored the game's first touchdown on a one-yard run by Peete. USC began its second td drive with 7:06 remaining in the half, ending with Peete's four-yard scoring run.
The opening minutes of the second half saw Brown's 22-yard scramble to the six, followed by his touchdown toss to Chris Calloway two plays later. U-M was unsuccessful on the two-point conversion, leaving the score at 14-9.
In the final minutes of the third quarter, the Michigan offense, led by running backs Tony Boles and Leroy Hoard, put together the longest drive of the game. The duo amassed 64 of the 92 yards gained by U- M in the drive. A 23-yard pass from Brown to Derrick Walker put the Wolverines on the one-yard line, and Hoard took it in for the score. Michigan again failed on the two-point try, leaving the Trojans just one point behind with plenty of time left in the final quarter.
With 5:28 left to play in the game, the Wolverines' sensed their third bowl victory in four years. On the very first play, Hoard exploded for a 61-yard run to the Trojan 9-yard line. On fourth-and-goal Hoard scored to give Michigan a seven point lead that became eight after Gillette's extra point with 1:57 remaining.
Peete then led the Trojans down the field in an attempt to tie the game, but linebacker John Milligan picked off an errant pass with 50 seconds remaining to secure a Wolverine win.
The victory gave Schembechler his second win in Pasadena and the Wolverines a 9-2-1 season record, finishing with a no. 4 national ranking by Associated Press.
---
<! -- BEGIN SCORING-- >
SCORING
First Quarter
M
Gillette, 49-yard field goal
Second Quarter
USC
Peete, 1-yard run (Rodriguez kick)
USC
Peete, 4-yard run (Rodriguez kick)
Third Quarter
M
Calloway, 6-yard pass from Brown (Run failed)
Fourth Quarter
M
Hoard, 1-yard run (Pass failed)
M
Hoard, 1-yard run (Gillette kick)
<! -- END SCORING-- >
---
<! -- BEGIN STATISTICS-- >
Game Statistics
Wolverines
Trojans
13
First Downs
22
59
Net Yards Rushing
188
172
Net Yards Passing
193
52
Total Plays
81
225
Total Yards
381
23/13/3
PA/PC/Int
30/16/0
6/40.8
Punts/Avg.
4/39.0
11
Return Yards
8
3/0
Fumbles/Lost
1/0
6/42
Penalties/Yards
6/26
Rushing-- (M):Morris 16-47; Perryman 5-14; G. White 1-2; Harbaugh 7-(-10); (A): Harris 23-109; Williams 18-69; Day 2-9
Passing-- (M): Harbaugh 13-23-172; (A): Van Raaphorst 16-30-193
Receiving-- (M): Morris 4-47; McMurtry 3-59; G. White 3-23; Jokisch 1-22; Higgins 1-15; (A): Cox 6-104; Hill 4-30; Harris 3-34
<! --END STATISTICS-- >