The Bentley remains closed to the public and staff. We will be unable to respond to requests or fulfill orders until staff return to the building.
The Library will be unable to process duplication orders until we return to work.
We will continue to receive research requests and duplication orders through our normal online process, however, we will be unable to respond to these requests immediately.
For research or other questions, please email bentley.ref@umich.edu.
The Library is open without fee to the public, and we welcome researchers regardless of academic or professional affiliation. To use the Bentley's resources more effectively, you will need to register for a Bentley research account using a general U-M account.
Have a U-M account? Click "Login" below to get started!
Don't have a U-M account? That's OK!
Click "Create" below to get started with a U-M Friend Account.
Create
Once you have a Friend Account, come back to this page and click the ACTIVATE button.
Activate
Do you have a U-M account but are new to research at the Bentley?
Login
Have a U-M account and a Bentley research account?
Requesting Items
Once your research account is set up and you're logged in, you may create a "New Reading Room Request" for materials from the MLibrary Search catalog,  Bentley finding aids, Alumni Records Index, or Vertical File index.
You can search any of our catalogs and databases without logging into your account.
Please be aware that we do have material stored in an offsite facility. These materials require at least 7 business days' notice to retrieve. We encourage you to place your requests prior to your visit.
If you need help with anything, please contact the Reference team at bentley.ref@umich.edu or call 734-764-3482–we're happy to help!
Example view of a Bentley research account: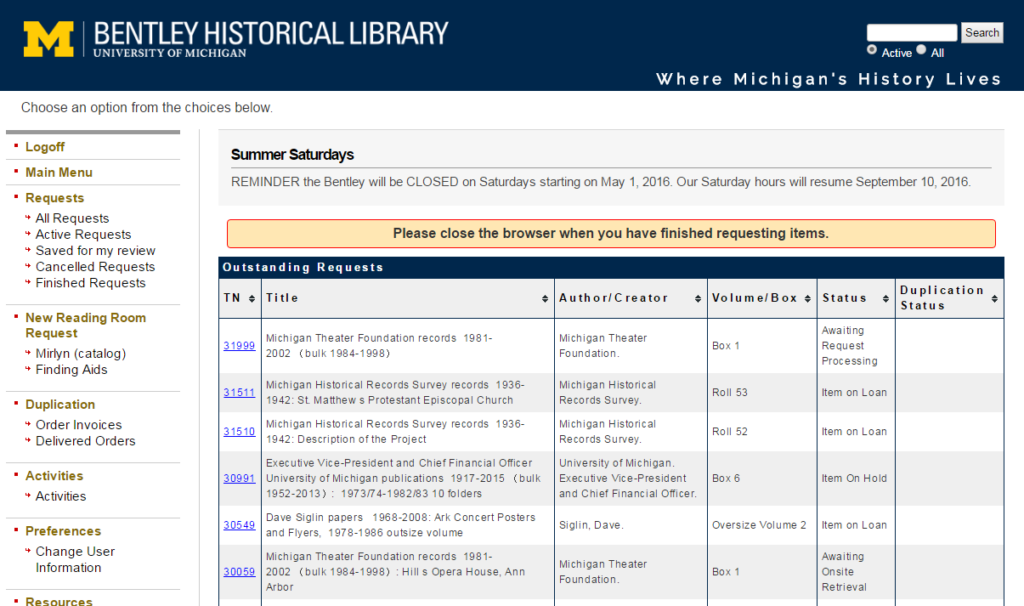 Data Collection and Use:
The Bentley Historical Library may retain, indefinitely, all data and information regarding patron use of library items, including registration, circulation, duplication and publishing requests, as well as related correspondence. This information may be shared with third parties to address issues of legality, security, the administration of library collections, and other endeavors in support of of the mission of University of Michigan.