The Bentley Historical Library is now open by appointment only for U-M faculty, students, and staff.
Please use this link to request an appointment.
For all researchers, we are happy to schedule a video consultation before or instead of a visit to the library. Please email us at bentley.ref@umich to set up a consultation.
The library's Reference department will continue to receive and respond to remote requests from researchers who are not affiliated with the University, but our ability to check our physical collections remains limited and it may take us a while to respond.
To make a remote research request, please email bentley.ref@umich.edu.
To keep our visitors and staff safe, and to comply with state law and university regulations, the Bentley has instituted the following procedures for using the reading room in person.
Please familiarize yourself with the new procedures here.
To use the Bentley's resources, you will need to register for a Bentley research account. Please be aware that we updated our research account system on August 18, 2020. If you previously registered for your Bentley research account using a UM Friend Account, you will need to reset your password. Please visit our login page, choose "Guest Account", and click on the "Forgot Password" link to receive a link for resetting your password. Your username will be your email address.
Bentley Research Account
To view materials from the Bentley for research or to order duplication of material, you need to create a Research Account. This account lets you:
Request materials ahead of your visit
Track material you've already seen and items you want to see in the future
Submit duplication orders for scans of material
Requesting Items
Once your research account is set up and you're logged in, you can create a "New Reading Room Request" for and order duplication of materials from the MLibrary Search catalog,  Bentley finding aids, Alumni Records Index, or Vertical File index.
You can search any of our catalogs and databases without logging into your account.
We do have some material stored in an offsite facility; however, the main library has stopped offsite material transport for the forseeable future. We apologize for any inconvenience.
If you need assistance with anything, please contact the Reference team at bentley.ref@umich.edu–we're happy to help!
Example view of a Bentley research account: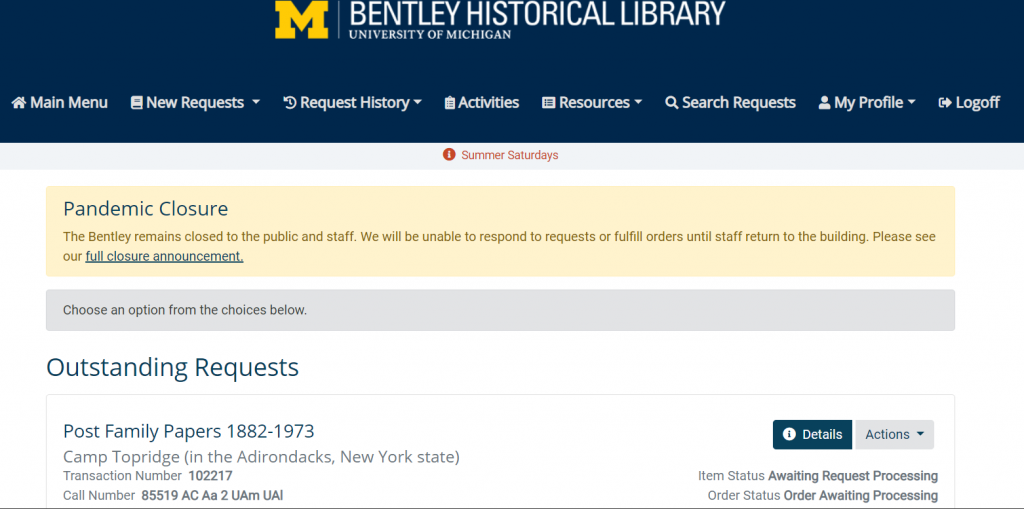 Data Collection and Use:
The Bentley Historical Library may retain, indefinitely, all data and information regarding patron use of library items, including registration, circulation, duplication and publishing requests, as well as related correspondence. This information may be shared with third parties to address issues of legality, security, the administration of library collections, and other endeavors in support of of the mission of University of Michigan.
Unprocessed Materials
The Bentley Library is unable to provide access to unprocessed collections. This is to prevent us from misplacing or damaging fragile materials and to protect any sensitive private information such as social security numbers and medical or academic records. In addition, some materials may be covered by donor-imposed or legal restrictions.
Please complete the Notice of Interest in Unprocessed Collections form. It will allow our Library to set the priorities for future processing decisions. Thank you for taking the time to complete this form.