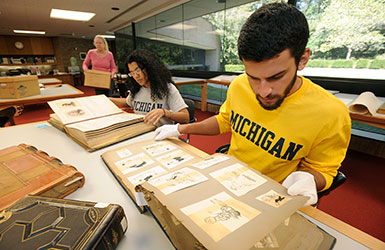 The Bentley Historical Library is open by appointment to the public.
Please register for and use a Bentley research account to select your material and request your appointment in the same form.
To keep our visitors and staff safe, and to comply with state law and university regulations, the Bentley has instituted procedures for using the reading room in person.
Please familiarize yourself with the procedures here.
Hours and Location
Hours
Open for Research by Appointment Only:
Monday: 10:00 AM – 4:00 PM
Tuesday: 10:00 AM – 4:00 PM
Wednesday: 10:00 AM – 4:00 PM
Thursday: 10:00 AM – 4:00 PM
Friday: 10:00 AM – 4:00 PM
Exceptions
February 22, 2023: Closed
May 29, 2023, Memorial Day: Closed
July 4, 2023, Independence Day: Closed
September 4, 2023, Labor Day: Closed
November 23 & 24, 2023, Thanksgiving Recess: Closed
December 25, 2023 – January 2, 2024, Winter Holiday Break: Closed
Location
Bentley Historical Library
1150 Beal Avenue
Ann Arbor, MI 48109-2113
734-764-3482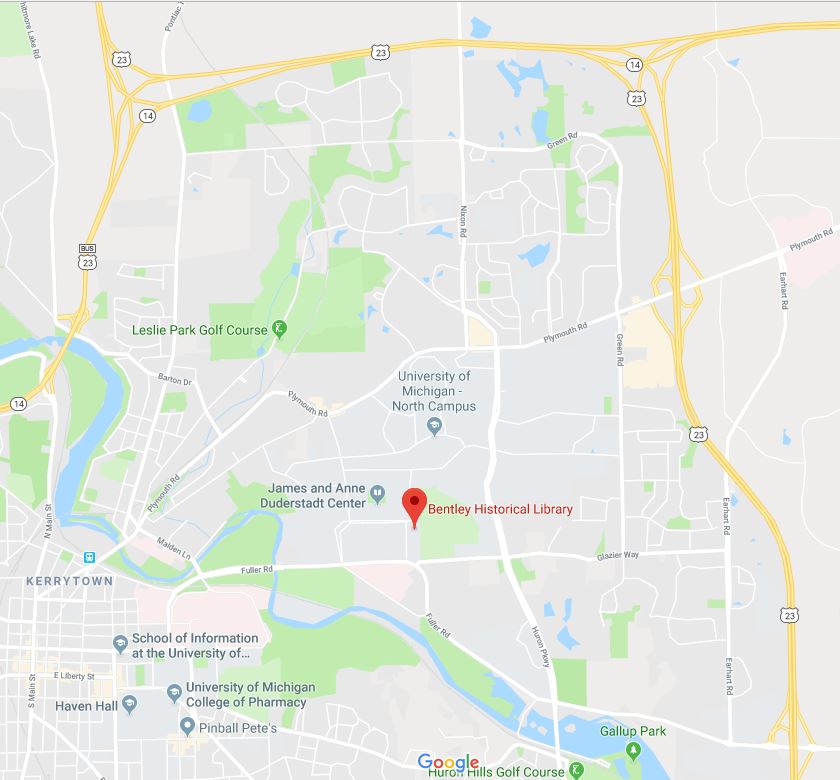 Directions
From US-23: Exit at Geddes Avenue; proceed west on Geddes Avenue. Go straight through the light at the intersection of Geddes and Huron Parkway. Geddes Avenue becomes Fuller Road at this intersection. Continue on Fuller Road. Immediately after the third light, which is at Glazier Way and the V.A. Medical Center parking structure, turn right onto Beal Avenue. The Bentley Historical Library is the second building on the right, after the Gerald Ford Presidential Library.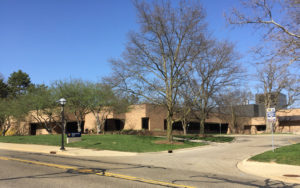 Parking and Bus Service
The library is located on the University of Michigan's North Campus. Free parking is available on the south side of the building in Lot NC42, with a permit provided at the time of your visit.
U-M Bus Routes and Schedules
See all U-M bus route information
U-M Buses
Bursley-Baits
Commuter North
Commuter South
Diag-to-Diag Express
North-East Shuttle
Northwood
Northwood Express
Ann Arbor Area Transportation Authority (TheRide) Bus Routes and Schedules
See all TheRide route information
TheRide Routes nearby
Route #3: Huron River
Route #22: Pontiac-Dhu Varren
Route #66: Carpenter-Huron Parkway (Green Road Park & Ride is a stop on this route)
Access to Services
Please inform us about specific accommodations you may need by calling 734-764-3482, or emailing bentley.ref@umich.edu.
The front entrance is wheelchair accessible and equipped with an automatic door opener, as is the entrance from the lobby into the public area.
Our hallways, meeting rooms, and reading room are wheelchair accessible.
A wheelchair accessible drinking fountain is located near the front entrance.
A gender-inclusive and wheelchair accessible restroom is available. Please request information at the front desk.
A lactation room is located in the Lurie Biomedical Engineering Building (LBME) across the street. Please request use as soon you can because we must arrange key access.
For information about additional resources for the U-M community, please see M-Library's accessibility page.
Off-Site Help
The Bentley Historical Library Reference staff offers general assistance in person, by phone, and by email.
Ask An Archivist – this online form can be sent to Reference staff with your questions about our library, collections, duplication policies, or copyright information.