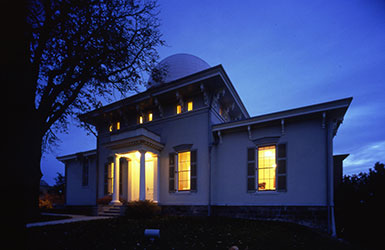 The Detroit Observatory was the first observatory built in the state of Michigan and is the second-oldest building still standing on UM's campus. In 2005, the Detroit Observatory became a division of the Bentley Historical Library.
Having undergone a full restoration in 1998, the building stands essentially as it was in 1854.
Please email Karen Wight at kwight@umich.edu with questions or for more information.
The Detroit Observatory has reopened with a restored dome!
While addressing some minor maintenance in 2017, workmen found much more damage than expected in the fabric of our dome.  Thanks to the terrific support of the University community, we were able to secure a complete restoration of our 1854 dome. With the final applications of a new, metal-shingle exterior, and a canvas-lined interior, our dome has been returned to its original appearance and full function.
We have resumed daylight Open Houses on select Sundays (our next is Sunday, June 10th, from 1 to 4 p.m.). Our evening "viewing nights" will continue throughout the summer and into the fall of 2018. You can find the complete, current schedule of events online at
Please note that all of our viewing nights are (and must be) WEATHER PERMITTING. The astronomer will update the calendar listing with a decision to either carry on or cancel late on the afternoon of a scheduled viewing. If the weather is good enough, and the skies are clear, please do join us – it is a terrific treat to examine the heavens through a 17 foot long Victorian telescope!
Address
1398 E. Ann Street (at the corner of Ann and Observatory Streets)
Ann Arbor, MI 48109-2051