Michigan in the Olympics

1906 - Athens
<! -- BEGIN TEXT -- >

Purists insist that the 1906 games, staged to mark the tenth anniversary of the beginning of the modern games, should not be considered Olympic Games because they fall outside the four year Olympiad cycle. For the first time the U.S. had a real Olympic team, selected by an Olympic Committee. Archie Hahn, the U-M's sole representative in Athens, brought home a gold in the 100 meter dash. He might have won more, but there was no 60 or 200 meter event. Hahn competed for Michigan from 1901-1904. He won the Big Ten 100 yard dash in 1901 and 1902 and the 220-yard dash in 1903.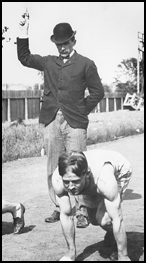 Hahn prepared for meets by running against Michigan's All-American half-back Willie Heston, known for his fast start. According to football coach Fielding Yost, "Willie would lead the first 20-30 yards, but then it was all Hahn."
Hahn earned a law degree from UM but never practiced. Instead he pursued a career as a track coach, most notably at the University of Virginia. During the 1920-1922 seasons he returned to Ann Arbor to serve as trainer for Fielding Yost's football squad. Hahn's book "How to Sprint" is still considered a classic.
at left, UM track coach Coach Keene Fitzpatrick and Archie Hahn at the starting line, Regent's Field.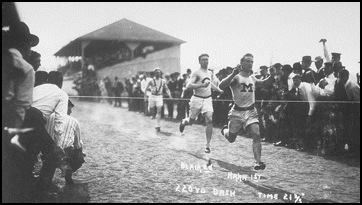 Archie Hahn defeats Chicago's Blair in the 220,
1903 Chicago meet at Regent's Field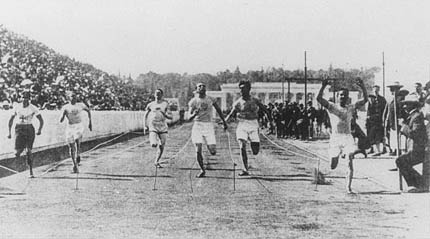 Archie Hahn, inside lane, winning 100m, 1906
<! -- END TEXT -- >
---
<! -- BEGIN UM RESULTS -- >
The U-M Results-1906
Archie Hahn
100 meters
1st
<! -- END UM RESULTS -- >
---
<! -- BEGIN CREDITS ETC -- >
Table of Contents | 1904-St. Louis | 1908-London | Name Index