Michigan in the Olympics

1904 - St. Louis
<! -- BEGIN TEXT -- >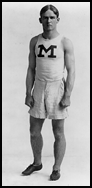 In the 1904 games many U.S. track and field athletes competed as representatives of municipal athletic clubs rather than universities. The U of M's Archie Hahn, for example, competed for his hometown Milwaukee Athletic Club, hence his nickname, "The Milwaukee Meteor." Still, 1904 was the "Michigan Olympics," as four current, one future and one former Wolverine came home with 10 medals: six gold, two silver, and two bronze.

Ralph Rose dominated the weight events in the first of his three Olympic appearances, winning a gold in the shot put, silver in the discus, and bronze in the hammer throw. He had tied American Martin Sheridan for first in the discus, but lost the gold medal in a throw off. Charles Dvorak won the pole vault gold medal in his second Olympics and Fred Schule won a gold in 110 meter hurdles. Archie Hahn capped the Michigan effort with three gold medals in the sprints.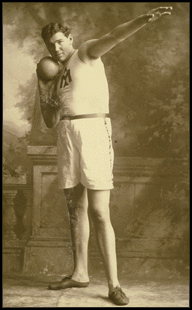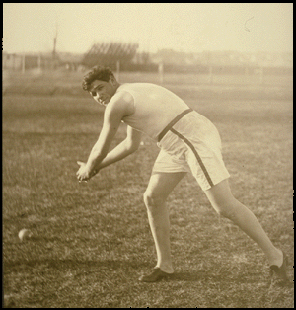 Ralph Rose, winner of 6 medals in 4 events in 3 Olympics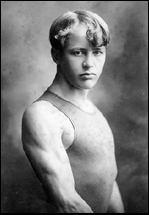 Michigan did not begin intercollegiate competition in swimming until 1922, but 18 year old Henry Jamison "Jam" Handy became the first Wolverine to win a swimming medal, taking a bronze in the 440 yard breaststroke in the 1904 games. Handy, 4 ft. 1l in. and 86 pounds, enrolled at Michigan in 1902 determined to become a football star and "a world champion in all sports." When Handy presented himself to coach Yost, he was offered a position as mascot. Handy's academic career was not much longer than his football one.

As a freshman he worked as a correspondent for the Chicago Tribune and published an article reporting an "innovation in educational methods" in Professor Trueblood's literature class. In having students act out certain literary passages with the proper "vito-emotive sentiments," Handy reported with some exaggeration, Trueblood was actually teaching male students how to win a young lady's hand. When the story received national coverage neither Trueblood nor President Angell were amused. Handy was suspended and returned to Chicago to work for the Tribune and begin a rigorous swimming regimen. He is credited with introducing a number of strokes to American swimming, including the Australian crawl, and held the national record in many of them for a short time. Handy competed with the Illinois Athletic Club and titles in the half-mile (1906), mile (1906 and 1907) and the 100-yard backstroke and 200-yard breaststroke in1907. He was the winner of the great 10-mile race down the Mississippi River in 1906, 1907 and 1908. He was also an outstanding water polo player and won a bronze medal in the 1924 Olympic games. Handy never returned to college. He eventually entered the advertising business and his Jam Handy Organization, baasd in Detroit, became a pioneer in the use of film in marketing and training, most notably in the auto industry.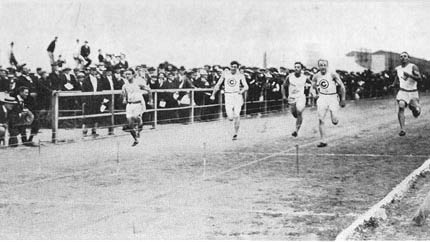 Archie Hahn winning 60-meter race, 1904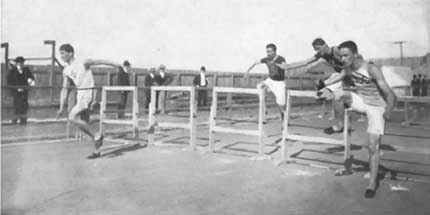 Fred Schule (at left) running for Milwaukee AC, 110-meter hurdles, 1904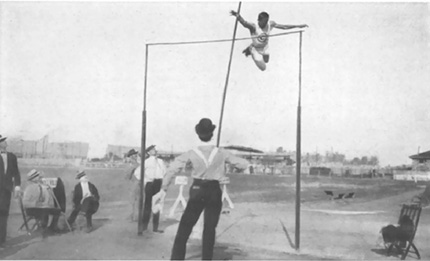 Charles Dvorak, competing for Chicago AC, 1904
<! -- END TEXT -- >
---
<! -- BEGIN UM RESULTS -- >
The U-M Results-1904
Archie Hahn
60 meters
1st, 7.2 sec., world record
100 meters
1st, 11.2 sec. into strong wind won by nearly 2 yards
200 meters
1st, 21.6 sec. Olympic Record until broken by Eddie Tolan in 1932
Charles Dvorak
pole vault
1st, 11 ft. 5.75 in.
Ralph Rose
shot put
1st, 48 ft. 7 in., world record
Discus throw
2nd, tied for first at 128 ft. 10.5 in., lost a throw-off
Hammer throw
3rd, 150 ft.
56 lb. weight throw
6th
Fred Schule
110 meter hurdles
1st, 16.0 sec.
William Coe
Shot put
2nd, 47 ft. 3 in.
Henry Jamison "Jam" Handy
440 yd. breaststroke
3rd
<! -- END UM RESULTS -- >
---
<! -- BEGIN CREDITS ETC -- >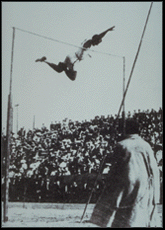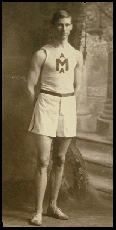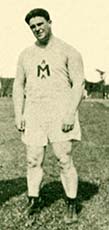 left: Charles Dvorak clinching the gold medal,
center: Fred Schule, gold medalist in hurdles
right: William Coe, silver medalist in shot put
---
Photo Credits
Archie Hahn, print in Ath. Dept. Box 41, 1900-1919, BHL, from Rentschler Studio negative.
Ralph Rose, 2 prints, both in Wilfred Shaw, Box 8, BHL
Henry J. "Jam" Handy, Handy Family Collection, William L. Clements Library.
Archie Hahn winning 60-meter race, IOC Olympic Museum Collection
Fred Schule 110-meter hurdles, Official Report of the1904 Olynpics [from LA84 Foundation]
Charles Dvorak, pole vault, Official Report of the 1904 Olympics [from LA84 Foundation]
Charles Dvorak image scanned from Dick Schaap, An Illustrated History of the Olympics, p. 71.
Fred Schule, Wilfred Shaw, Box 8, BHL.
William Wesley Coe, Michiganensian, 1906.
---
Table of Contents | 1900 - Paris | 1906 - Athens | Name Index