Michigan in the Olympics

1900 - Paris
There was not an organized U.S. team for the Paris Olympics, rather, a number of universities sponsored squads. Michigan had just defeated Chicago for the Western Conference track crown when it was learned that Chicago was sending athletes to Paris. For professor Albert Pattengill and others it became a point of pride that the champions of the West should also be represented at the Olympics. Funds were solicited from faculty, students, alumni and Ann Arbor businessmen to send four track men to Paris. Coach Keene Fitzpatrick and two students accompanied them. The U of M squad brought three silver medals back to Ann Arbor, but not without some controversy.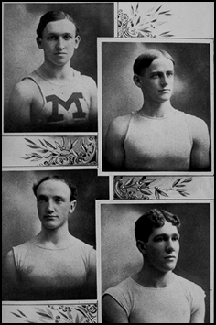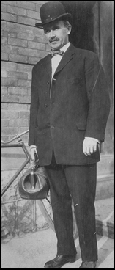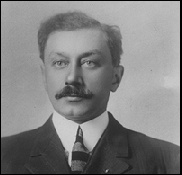 left, clockwise from top left: U of M 1900 Olympians: Howard Hayes, Charles Dvorak, John McLean, Clark Leiblee
center: U of M track coach and football trainer Keene Fitzpatrick, 1898-1910
right: Alvin Kraenzlein, U of M track coach, 1911-1912
The U. S. athletes had understood there would be no competition on Sundays. When finals of some events were scheduled for Sunday, the U.S. university teams, after much discussion, agreed they could not violate the Sabbath. Some individuals and university teams then broke the agreement, which led to more controversy. Among the finals scheduled for Sunday was the pole vault, in which Michigan's Charles Dvorak was a favorite. Dvorak is supposed to have reported to the competition area only to be told that the pole vault final was rescheduled. After he and another American had left the finals were held. Eventually several special competitions were held to accommodate the Americans, which allowed Dvorak to win a silver medal.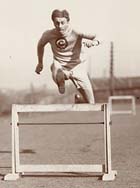 Kranzlein at Penn
John McLean, twice Western Intercollegiate champion in the high hurdles, finished second to Alvin Kraenzlein of Pennsylvania. Kraenzlein was the star of the Paris games. He won four gold medals in the 60 yard dash, 110 and 220 hurdles and the long jump. Kraenzlein later served as UM track coach and football trainer, 1910-1911. Kranzlein is credited with introducing the "straight-leg" hurdle technique. In 1913 Kranzlein signed a five-year contract to coach the German Olympic team at a reported salary of $50,000. He had moved to Berlin and begun training the German team when, supposedly, the Kaiser himself warned Kranzlein that World War I was about to break out and that he should leave the country. Kranzlein later served as a coach for the Cuban national team and an assistant coach at Penn.
In addition to the "official" events, the 1900 Olympics included a number of special competitions and "handicap" races. Hayes and Leiblee competed in these events and are therefore sometimes not listed as members of the U.S. team.
Mike Murphy, who had served as the first trainer/coach of the Michigan football team in 1891 , was the unofficial coach of the U.S. team. Murphy was Kranzlein's coach at the University of Pennsylvania (he had influenced Kranzlein to transfer to Penn after competing at Wisconsin for a year.) Murphy is regarded as among the greatest of U.S. track coaches and would be involved, formally or informally, with U.S. Olympic teams though 1912.
---
The U-M Results-1900
John McLean
high hurdles
silver
broad jump
did not compete in Sunday finals
800 meters
finished 3rd in fastest heat
low hurdles
finished 3rd in fastest heat
Charles Dvorak
pole vault
silver, in a special event
Howard Hayes
800 meters
silver in "handicap" race
Clark Leiblee
100 meters
made it to semi-finals
---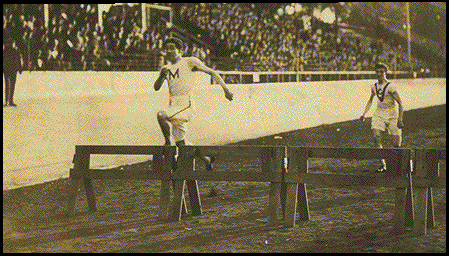 John McLean wins 220 hurdles at 1900 Western Conference Meet
---
Photo Credits:
Hayes, Dvorak, McLean, Leible, composite from Michigan Alumnus,Oct. 1900, copy print in Ath. Dept., Box 41, 1900-1919, neg. na9974, BHL.
Keene Fitzpatrick, Ath. Dept., Box 41, 1900-1919, BHL.
Alvin Kraenzlein, Ath. Dept., Box 41, 1900-1919, BHL.
McLean winning 220 hurdles, Ath. Dept., Box 41, 1900-1919, BHL.
---