University of Michigan Football Coaches
Mike Murphy and Frank Crawford
1891, 4-5-0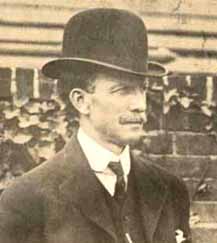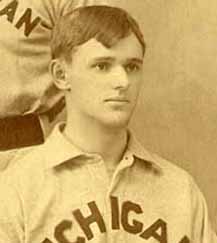 Mike Murphy and Frank Crawford
Mike Murphy and Frank Crawford are considered Michigan's first football coaches. Prior to their appointment, the Michigan football program operated for eleven seasons without a coach.
The October 13, 1891 Michigan Daily reported that the Athletic Association had instructed football manager Royal Farrand to obtain the services of Mike Murphy of the Detroit Athletic Club "for a few days to get the team in shape to turn over to a coach." Farrand also was to pursue William Rhodes, captain of the 1890 Yale team, and Princeton's All-American back Knowlton "Snake" Ames as coach. The Athletic Association also received an offer from Yale coach Walter Camp to coach the team by mail.
The October 16 Daily reported that Murphy "had agreed to come three days in the week and help coach the team. He goes east for a week before coming here."
An experienced and popular trainer for the Detroit Athletic Club, Murphy volunteered his services to institute a systematic training program for the 1891 team. The Yellow and Blue (another student newspaper) of October 31, 1891 noted: "The Athletic Association is greatly indebted to Trainer Murphy, who without remuneration, is devoting his time and attention to the eleven. Nobody takes a deeper interest in their success. His knowledge of the game and tactics make him withall a very desirable personage at present."
Neither of the Eastern stars could be induced to come to Ann Arbor, but Rhodes strongly recommended his former Yale classmate Frank Crawford who was enrolled in the U-M Law Department. At its October 15 meeting the Athletic Association followed Rhodes' advice and appointed Crawford Michigan's first football coach.
Crawford was an 1891 Yale graduate who may have played some football while a Bulldog, but definitely did not win a varsity letter. [1] He not only coached the Wolverines, but also played; appearing in two games and scoring a touchdown. Listed as a substitute quarterback but seeing action at end and left halfback, Crawford was described as being "light for the team, but knew the game better than any of the rest."
The 1891 team finished with a 4-5 record, including two losses to Cornell, but Michigan supporters found some good in the results. While not specifically crediting Crawford, the Daily's season summary concluded ".. there is no doubt that a decided step forward has been taken in the development of the game here. It has been more scientifically played than ever before. The players have been instructed to play a radically different game from last year... and last but more important than anything, the foundation for a very superior eleven for next season has been laid."
Crawford earned varsity letters in baseball in 1892 and 1893 as a catcher and outfielder and captained the 1893 squad.
In a post-season editorial praising the work of football manager Royal T. Farrand, the Daily opined "It is to be sincerely hoped that the management next year will secure the services of a coach who is thoroughly acquainted with the most recent methods of playing." Whether that disqualified Crawford is unclear, but he neither played nor coached for Michigan in 1892. Instead, he took his coaching talents to Madison. While still enrolled at Michigan, Crawford coached the University of Wisconsin football team to a 4-3 record in 1892, including a 10-6 loss to the Wolverines in the initial game of the Intercollegiate Athletic Association of the Northwest. Crawford appears to have spent a few days in Madison coaching the Badger team before each of its "big games".
After earning his law degree in 1893 Crawford headed west. He coached the University of Nebraska to a 9-4-1 overall record in 1893 and 1894, and led the University of Texas to a perfect 5-0 record in 1895.
At the same time he opened a law practice in 1893 in Omaha with Albert Jefferis, a football and baseball teammate at Michigan. He also taught for a time at Creighton Law School. After World War I Crawford opened a law office in Paris, France and later maintained a practice in Nice through the mid 1930s. Crawford died November 11, 1963 at age 93 in Portland, Maine. He remained a loyal Michigan man to he end; regularly writing to the secretary of the Alumni Association with news of his few remaining classmates and remarking in one letter that Bennie Oosterbaan's 1957 team was not getting the national respect it deserved.
Mike Murphy went on to a distinguished career as a track coach at Yale and Penn and as a U.S. Olympic coach in 1900, 1908 and 1912. Born in Westboro, Massachusetts, Murphy became a star on the professional racing circuit in New England, competing for various "hook and ladder" teams. Among his teammates and competitors on these fire department sponsored teams were Keene Fitzpatrick and Steve Farrell, both later U-M track coaches. Murphy established a reputation as an athletic trainer and set up a training camp in Westboro in 1886. The champion boxer John L. Sullivan was one of the notable athletes Murphy trained. In 1887 Murphy was hired as trainer/athletic director at Yale. He remained at Yale until 1896, except for a three year stint at the Detroit Athletic Club. Murphy moved on to Penn in the Fall of 1896 where he served as head track coach and trainer for the football team until his death in 1913.
-----------------------
[1] According to the Michigan Daily, Crawford "played football there for several years." In a reminiscence for his 30-year class reunion Crawford wrote of having been on the "Class Crew and Yale Athletic Team and wrestled successfully for the Class at Rush" but made no mention of playing football. Yale archivists found no evidence that he played varsity football. The University of Nebraska Athletic Department website claims Crawford was "a member of the dominant Yale teams of the mid-1880s."
Murphy photo courtesy of University of Pennsylvania Archives
Crawford photo cropped from 1892 baseball team photo