Michigan in the Olympics

1912 - Stockholm
<! -- BEGIN TEXT -- >


The Stockholm games brought another Michigan double in the sprints, Ralph Craig winning both the 100 and 200 meter events. Craig had been the pre-Olympic favorite in the 100 meters until beaten by the unknown Howard Drew in the U.S. trials. A leg injury sustained in the preliminary round at Stockholm kept Drew from the Olympic finals. There were seven false starts in the finals, three by Craig. In one of them Craig and another sprinter ran the entire distance. Apparently that was just a good warm-up for Craig. When there finally was a clean start, he won the race with a time of 10.8 seconds, 60 centimeters ahead of U.S. teammate Alvah Meyer. Donald Liippincott placed third to give the U.S. a medals sweep.

Craig came back to win the 200 meters race with a time of 21.7 seconds, just 1/10th of a second off Archie Hahn's Olympic record. Craig earned three letters in track at U of M, from 1909 to 1911. He never won a Big 10 title, however, as Michigan had withdrawn from the conference during those years. A very successful industrial engineer, Craig later won a spot as an alternate on the 1948 U.S. Olympic yachting team.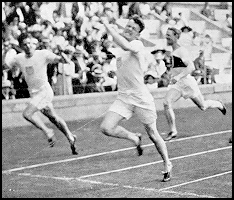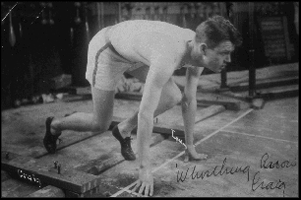 left: Craig wins the 200 meters, .10 second off Archie Hahn's Olympic record.
right: Craig practices in the "starting blocks" in Waterman gym.
Appearing in his third Olympics, world record holder Ralph Rose was upset in the shot put, but captured the left and right handed combined event with a total distance of 90 ft. 5.4 inches. Carroll Haff won both of his heats in the 400 meters but finished fifth in the finals. Haff returned to Michigan for a final year of competition in 1913. Alternating between the 440 and half-mile, he finished the season undefeated, closing with a win in the 440 at the Eastern Intercollegiate Meet, the "national championships" of the day.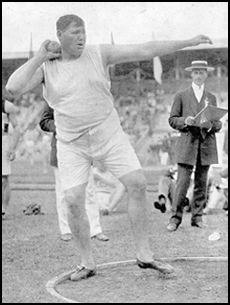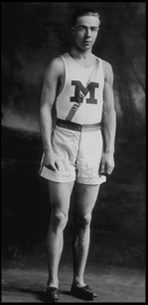 left: Ralph Rose in competition in Stockholm
right: Carroll Haff
<! -- END TEXT -- >
---
The U-M Results-1912
<! -- BEGIN UM RESULTS -- >
Ralph Craig
100 meters
1st, 10.8 sec.
200 meters
1st, 21.7
Ralph Rose
shot put
2nd, 50 ft. .5 in.
shot put combined
1st, 90 ft. 10.5 in.
hammer throw
9th, 139 ft. 8.35 in.
discus
11th, 130 ft. 1 in.
Carroll Haff
400 meters
5th, 49.5 sec
<! -- END UM RESULTS -- >
---
<! -- BEGIN CREDITS ETC -- >
Photo Credits:
Ralph Craig in Olympic uniform, from Den Femte Olympiaden (Olympic Games, Stockholm, 1912), Swedish Olympic Committee, page 100.
Ralph Craig, 200 meters, from The Official Report of the Olympic Games of Stockholm, 1912, Swedish Olympic Committee, plate 126.
Ralph Craig in Waterman Gym, J. Fred Lawton Papers, Box 2, BHL
Ralph Rose, from Den Femte Olympiaden (Olympic Games, Stockholm, 1912), Swedish Olympic Committee, page 170.
Carroll Haff, Ath. Dept. Box 41, 1900-1919, BHL