Michigan in the Olympics

1920 - Antwerp
Michigan had only two representatives in the Antwerp games. Three time Big 10 champion Carl Johnson earned a silver medal in the long jump with a leap of 23 ft. 3.5 inches. During his Michigan career, Johnson was twice Big 10 hurdles champion and won the high jump in 1919.
At the U.S. Olympic Trials Johnson finished in sixth place, well behind Sol Butler of the University of Dubuque, and was not initially selected for the U.S. team. Butler was the world's top long jumper in 1920 and was favored to win the gold medal in Antwerp. He set an American record of 24'8" at the trials while Johnson recorded a 22' 3.5" jump. Second place was won by by Sherman Landers of the Chicago Athletic Association. When Landers elected to forego the long jump to concentrate on the triple jump, Johnson was invited to join the U.S team. In Antwerp Butler suffered a hamstring injury on his first jump in the finals and was forced to withdraw.* Johnson captured the silver medal in Antwerp with a leap of 23' 3.5" (6.82m). William Petersson of Sweden wont he gold medal with a jump of 6.94 meters.
R. Jerome "Duke" Dunne, a three sport letter man, was also a late addition to the U.S. Olympic pentathlon team and was not even the best U-M finisher at the U.S trials. Joe Baker, U-M's Big Ten shot put champion in 1919 and 1920 placed sixth at the U.S. pentathlon trials held at the Loughlin Lyceum Oval in Brooklyn. Dunne placed 12th. Team selection was not based solely on results however. Six days later the Executive Committee of the U.S. Olympic Committee decided that Dunne would be one of four U.S pentathletes. At Antwerp Dunne finished in a tie for 12th place. His best event was a tie for 7th place in the 200-meter race. Failure to complete the 1500-meter run cost Dunne several spots the final standings.
Joe Baker died tragically in train collision near Porter, Indiana in March 1921.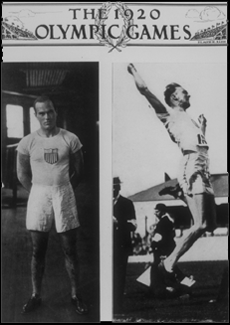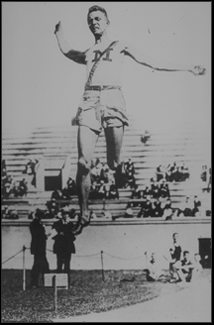 Dunne and Johnson in Antwerp, Johnson winning Eastern Intercollegiates, 1919.
---
The U-M Results-1920
Carl Johnson
long jump
2nd, 23 ft. 3.5 in.
R. Jerome Dunne
pentathlon
12th place
* Had Sol Butler won the long jump, he would have been the first African-American to win an individual Olympic gold medal. Instead, the honor would go to U-M's William DeHart Hubbard in 1924.
Photo Credits:
Jerome Dunne and Carl Johnson in Antwerp, copy print from 1921 Michiganensian, in Ath. Dept. Box 41, 1920-1926, neg. #na9968, BHL
Carl Johnson at Eastern Intercollegiates, copy print from 1921 Michiganensian in Ath. Dept. Box 41, 1920-1926, neg.#na10187, BHL.
---
Table of Contents | 1912-Stockholm | 1924-Paris | Name Index