Michigan in the Olympics

1928 - Amsterdam
<! -- BEGIN TEXT -- >
Michigan's string of medal winning performances was kept alive in 1928 by Ken Doherty, Paul Samson and Garnet Ault. Doherty, a U of M graduate student and future Michigan track coach, earned a bronze medal in the decathlon, finishing just 247 points behind the winner. Ault won a bronze medal as part of the Canadian 800 meter freestyle relay team, becoming the first Michigan athlete to medal for a foreign country. Paul Samson swam the first leg of the 800 meter relay for the U.S. in the qualifying heat, but did not swim in the final, which the U.S. won. Samson was also a member of the water polo team.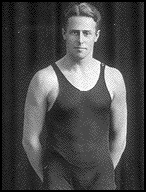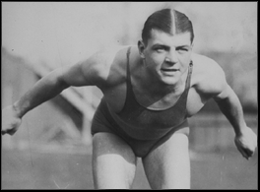 Ken Doherty, Garnet Ault, Paul Samson
DeHart Hubbard could not repeat his 1924 gold medal effort in the long jump. Canadian sprinter George Hester, a two-time Big Ten 100 yard champion for Michigan, participated in three events, but was plagued by ill-luck. He placed second in his qualifying heat in the 100 meter dash but did not advance to the semi-finals. In the 200 meters he again finished second in his heat but was disqualified for running out of his lane. The Canadians had a chance for a medal in the 400 meter relay, but dropped the baton on the last exchange.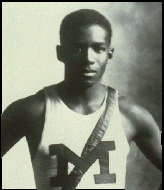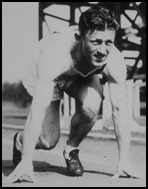 William DeHart Hubbard, George "Buck" Hester
Ed George and Robert Hewitt just missed medals in wrestling. Each won two matches before losing to the eventual gold medal winner. George would go on to gain fame as a professional heavyweight champion. Blair Thomas lost the alternate position on the U.S. team at 134.5 on a referee's decision.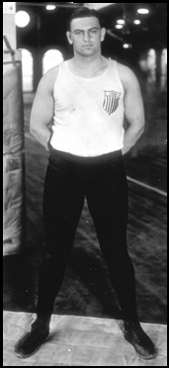 Ed Don George, Robert Hewitt
Al Watson and Russ Sauer are sometimes listed in U of M publications as alternates on the U.S. wrestling team. Though they were in Amsterdam, it was hardly in an official capacity. Both men had wrestled in the final U.S. trials held at Grand Rapids, but neither made the fourteen man squad; Watson losing to eventual gold medal winner Allie Morrison. Deciding the Olympics was too good an opportunity to miss, the pair hitch-hiked to New York and stowed away on the ship transporting the entire U.S. Olympic delegation. They managed to remain undetected, and even worked out with the wrestling team, until the games were over. Discovered at last and out of money, they were forced to earn their passage home by working in the ship's galley. Sauer wrote an entertaining account of his adventure for the Detroit News (Nov. 11, 1928).
Two men with U-M ties served as assistant coaches for U.S. teams. Henry Schulte was an assistant coach for the U.S. track team. He played football for Fielding Yost, 1903-1905, earning all-conferences honers at left guard in 1905. He was football coach at Ypsilanti Normal School 1906-1909 and then was head football and track coach at Missouri, 1914-1917. He moved to Nebraska as head football coach for two seasons, 1919-1920 and track coach 1919-1928. His team's won 15 conference titles in his 20 year tenure. Richard Barker, U-M's first official wrestling coach, 1923-19225, was an assistant trainer for the U.S. wrestling team in Amsterdam.
<! -- END TEXT -- >
---
<! -- BEGIN UM RESULTS -- >
U-M Results
Ken Doherty
decathlon
3rd
Garnet Ault (Canada)
800 m. relay
3rd
100 m. freestyle
did not place
400 m. freestyle
did not place
1500 m. freestyle
6th
Paul Samson
800 m. relay
1st, swam in qualifying round
water polo
U.S. did not medal
William DeHart Hubbard
long jump
11th, 23 ft. 4 in.
Ed George
wrestling
4th, heavyweight
Robert Hewitt
wrestling
5th, 123 lbs.
George "Buck" Hester (Canada)
100 meters
did not place
200 meters
did not place
4x100 m. relay
did not place
Henry Schulte (U.S.)
track assistant coach
Richard Barker (U.S.)
wrestling-assistant trainer
<! -- END UM RESULTS -- >
---
<! -- BEGIN CREDITS ETC -- >
Photo Credits:
Ken Doherty,
Garnet Ault,Alumni Association, Box 139, an-az, BHL
Paul Samson, Ath. Dept., Box 9 out., BHL,
William DeHart Hubbard Ath. Dept. Box 41, neg. #na9664, BHL
George "Buck" Hester, Ath. Dept., Box 41, 1926-1927, BHL
Don Ed George,Cliff Keen Scrapbook, BHL
Robert Hewitt, Cliff Keen Scrapbook, BHL
Table of Contents | 1924-Paris | 1932-Los Angeles | Name Index