Michigan in the Olympics

1932 - Los Angeles
<! -- BEGIN TEXT -- >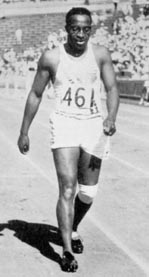 Eddie Tolan with his "good luck"
knee bandage.

Eddie Tolan's victories in the 100 and 200 meters brought Michigan a unique distinction. The 5-foot 7-inch sprinter from Detroit set two Olympic records in joining Archie Hahn and Ralph Craig as double winners in the sprints. No other university can match that record in the Olympic competition. Tolan competed for Michigan from 1929-1931. He won the Big Ten 100 yard dash in 1929 and 1931 and finished second to Ohio State's George Simpson in 1930. His 1929 time of :09.5 tied the world record. He twice finished second to Simpson in the 220 before winning the Big Ten title in 1931. Tolan's best NCAA meet was 1931 when he won the 220 in 20.9 seconds and finished second in the 100 yard dash. In Los Angeles Tolan overcame his notoriously poor start to edge Ralph Metcalfe in the 100 meter dash in a controversial photo finish. He won the 200 meters going away in a Olympic record time of 21.2 seconds, breaking the record Archie Hahn set in 1904.
Watch Tolan edge Metcalfe in the 100 meter finals. [Youtube]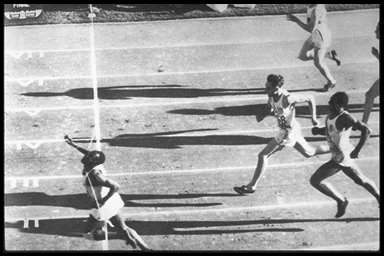 Eddie Tolan setting Olympic record in the 200 meter finals.
James Cristy and Rich Degener became the first Michigan varsity swimmers to win individual medals in swimming and diving. Tex Robertson, varsity swimming letterman 1934-1936, won a bronze medal with the U.S. water polo team.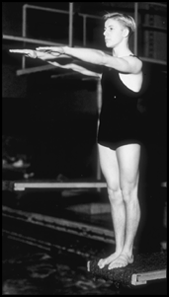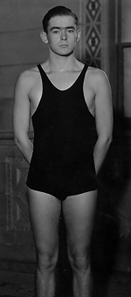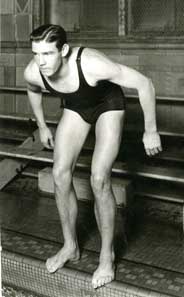 L-R: Rich Degener, James Cristy, Julian "Tex" Robertson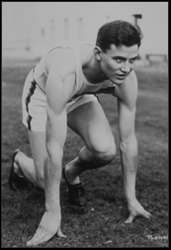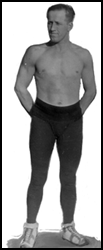 Ned Turner, who lettered in track 1931-1933, finished fifth in the 800 meter run. Turner had six second place finishes in the half-mile in Big Ten indoor and outdoor conference meets; four of them to Charles Hornbostel of Indiana. Thomas Hampson of Great Britain set Olympic and world records at 1:49.8 to win the gold medal. Turner finished one spot ahead of his nemesis Hornbostel.
Wrestler Carl Dugovito was an alternate at 158 pounds but did not compete. At the U.S. trials, Dugovito had apparently earned first place at this weight with convincing wins in the semi-finals and finals. A check of the standings, however, revealed that under the scoring system in use, one of the semi-finals losers was still eligible for a wrestle back match. So thirty minutes after what he thought was the championship, Dugovito was forced to wrestle another match. An exhausted Dugovito fought Jack van Bebber to a draw, but lost his title on a referee's decision. Van Bebber easily won the gold medal in Los Angeles.
<! -- END TEXT -- >
---
<! -- BEGIN UM RESULTS -- >
The U-M Results-1932
Eddie Tolan
100 meters
1st, Olympic record of 10.3 in a photo-finish with Ralph Metcalfe
200 meters
1st, Olympic record of 21.2 sec. broke the mark set by Archie Hahn in 1904.
James Cristy
1500 m. freestyle
3rd, 19:39.5
Julian "Tex" Robertson
water polo
3rd
Rich Degener
springboard diving
3rd
Ned Turner
800 meters track
5th, 1:52.5
Carl Dugovito
wrestling
alternate, did not compete
<! -- END UM RESULTS -- >
---
<! -- BEGIN CREDITS ETC -- >
Photo Credits:
Table of Contents | 1928-Amsterdam | 1936-Berlin | Name Index