Michigan in the Olympics

1936 - Berlin
<! -- BEGIN TEXT -- >
UM was represented in Berlin by a diver, three swimmers and a sprinter. Rich Degener improved on his 1932 bronze in springboard diving to win Michigan's first diving gold medal. Taylor Drysdale placed fourth in the 100 meter backstroke, but Jack Kasley, world record holder in the 200 meter breast-stroke, did not make the finals in his event. Jim Cristy could not repeat his medal winning effort in the 1500 freestyle. Sprinter Sam Stoller was denied even the chance for gold.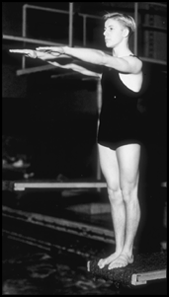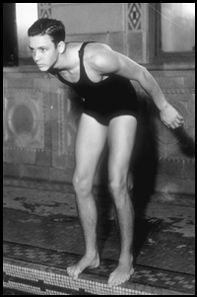 Rich Degener, Taylor Drysdale, Jack Kasley
Degener had won Big Ten and national Championships in 1933 and 1934 and was a bronze medalist in the springboard at the 1932 Olympics. In Berlin he was well behind U.S. teammate Marshall Wayne with one dive to go. Rather than playing it safe and settling for silver medal, Degener attempted a difficult full twist with with a one-and-a-half somersault. He performed a near perfect dive, scoring 19.54 points, and when Wayne faltered in his final dive Degener had won the gold medal.
Stoller had finished sixth in the 100 meters at the U. S. trials, just behind Marty Glickman. The first three finishers made the team in that event and the next four qualified as members of the 4x100 relay team. As the date for the 400 meter relay approached, Stoller was expecting to run with the team of Marty Glickman, Frank Wyckoff, and Foy Draper. On the morning of the preliminary heats, however, coach Lawrence Robertson announced that Stoller and Glickman would be replaced by Jesse Owens and Ralph Metcalfe. Stoller and Glickman were the only Jews on the U.S. track team and the only members who did not compete.
When word of the change reached the U.S., protests were lodged that the coach had succumbed to Nazi pressure. There were allegations that he had been forced to make the change by U.S. Olympic Committee chairman Avery Brundage, a known anti-Semite, in order to avoid offending Hitler. While Glickman and Stoller believed their religion was a factor, Coach Robertson claimed he needed the best possible squad against Dutch and German competition. It is not unusual for the top racers to sit out the qualifying round and then run in then finals, Robertson did not make even that move with the 4x400 relay team, which did lose. Still, replacing two Jewish with two African-American athletes was not likely to appease Nazi sentiments very much. The new 4x100 team won easily, setting a world record and netting Owens his fourth gold medal. For Stoller it was probably nothing new. For most of his outstanding career at Michigan he had been running in the shadow of the great Owens. Stoller returned to Michigan for the 1937 season and won the Big Ten 100 yard dash.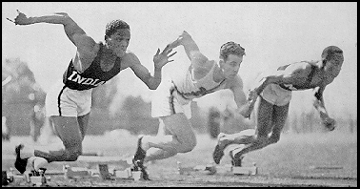 Sam Stoller, center, start of 100 yard dash in a Big Ten meet.
A racial incident much closer to home affected the Olympic chances of another Michigan athlete. Willis Ward was one of the best all-around athletes ever to compete for Michigan. A high school football and track star in Detroit, Ward had decided to attend college at Dartmouth. He had not seriously considered Michigan because of its reputation for not accepting Black football players. No African-American had earned a varsity football letter since George Jewett in 1892. During Fielding Yost's tenure as coach several black students did join the football squad, but it appears that none of them ever saw game action and only one earned even a "reserve letter." In 1931, UM Regent James Murfin and football coach Harry Kipke wanted to change that. With Kipke's assurance that he would be given full opportunity to play football, Ward enrolled at Michigan. He quickly became friends with another freshman football player, Gerald Ford.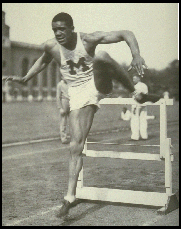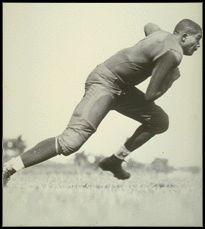 Ward earned six varsity letters in football and track. He starred at end on the 1932 and 1933 national champion football squads, and played both end and halfback in 1934. In track Ward won Big Ten titles in the 100 yard dash, 1933; high jump, 1933 and 1935; 400 meter dash, 1933; and long jump, 1934. On several occasions he beat Jesse Owens in the 100 yard dash and was also an outstanding hurdler. Because of his all-around skills, Ward was considered a likely contender for the U.S. decathlon team.
In the third game of the 1934 football season, Michigan was scheduled to play Georgia Tech in Ann Arbor. Ward's presence on the team posed a problem. At least as early as the fall of 1933, the Georgia Tech athletic director had written to Yost asking what was going to be done about Ward, asserting that his team would not take the field if Ward was playing for Michigan. As game day neared the issue became a major controversy on campus and mass meetings and demonstrations were held. Some students and faculty demanded that either Ward must play or the game should be canceled. Others argued that, as host team, Michigan must respect southern customs and hold Ward out of the game. Yost and Kipke did not publicly reveal their decision beforehand, but when kick-off came, Ward was not in uniform.
The incident left Ward angry and, in his view, it demoralized the team for the rest of the season. Ward recalled that Ford considered quitting the team in protest. The team finished with a 1-9 record, the only win coming against Georgia Tech. In later interviews Ward said the episode left him disillusioned with sports and sapped his competitive spirit.
At the urging of U-M track coach Ken Doherty, bronze medalist in decathlon in the 1928 Olympics, Ward began training for the decathlon in anticipation of the 1936 games. In his first decathlon competition at the end of June 1935, Ward held the lead at the end of the first days events, winning the 100 and 400-meter dashes, broad jump and high jump. He lost ground in the field events, however and finished in fourth place. He continued training and competed in several more decathlons but eventually gave up the gave up the medal quest.
By his own account, in part as a result of the Georgia Tech experience, Ward had lost the burning ambition to win and did not train to his peak and and did not compete in the U.S. Olympic trials. Willis Ward went on to earn a law degree and had a distinguished career as a lawyer and judge.
---
Winter Games - Garmisch, Germany
Ishpeming, Michigan ski jumper Walter Bietila was the first U of M student to participate in the Winter Olympics. He was enrolled at U of M 1934/35-1935/36. He finished in 30th place in the "special jump" event. Bietila finished his college career at the University of Wisconsin where he was captain of the ski team. He was also selected for the mythical 1940 ski jumping team that never competed because of the Second World War. Bietila served as captain of the 1948 U.S. ski jumping team. He remained active in the Olympic ski jumping, serving on the U.S. Olympic Committee and as a coach and manager of the 1960 team. An all-around athlete, Bietila earned a freshman letter in baseball at U of M and had received a contract offer from the New York Yankees.
<! -- END TEXT -- >
---
<! -- BEGIN UM RESULTS -- >
The U-M Results - 1936
Rich Degener
springboard diving
1st
Taylor Drysdale
100 m. backstroke
4th, 1:09.4
Jack Kasley
200 m. breaststroke
eliminated in semi-finals
Jim Cristy
1500 meter freestyle
eliminated in semi-finals
Sam Stoller
4x100 relay
did not compete
<! -- END UM RESULTS -- >
---
<! -- BEGIN CREDITS ETC -- >
Photo Credits:
Rich Degener, Alumni Association, Box 140, BHL
Taylor Drysdale, Alumni Association, Box 140, BHL
Jack Kasley, Alumni Association, Box 142, BHL
Sam Stoller, copy print from 1938 Michiganensian, in Ath. Dept., Box 41, 1935-1937, BHL
Willis Ward, hurdles, Ath. Dept., Box 41, 1930-1934, neg #na10925, BHL.
Willis Ward, football, Alumni Association, Box 147, BHL
Table of Contents | 1932-Los Angeles | 1948-London | Name Index