Michigan in the Olympics

1952 - Helsinki
Matt Mann was coach of the U.S. swimming team but only two of the five Wolverine Olympians were swimming for him. Mann coached the U-M swimming team from 1926 to 1954. His squads compiled a 201-25-3 meet record and captured 16 Big Ten and 13 NCAA titles. Australian John Davies won the only Michigan individual medal in Helsinki, a gold in the 200 meter breaststroke. Dick Papenguth, a U-M swimming letterman in 1923 and 1925, coached the U.S. women's team. Long-time coach at Purdue, Papenguth is credited as being "the first coach who worked college women hard" and coached many members of his Lafayette Swim Club to world records and national titles.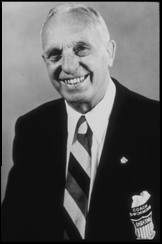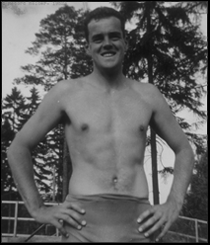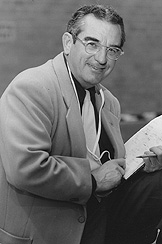 Matt Mann, John Davies of Australia, Dick Papenguth
Burwell Jones, who would captain the 1954 U-M swim team, swam in the preliminaries of the 800 meter freestyle relay, helping to set an Olympic record in qualifying the U.S. team. He did not race in the finals, but watched his teammates set another Olympic record enroute to the gold medal. Ron Gora finished 8th in the 100 meter freestyle for the U.S.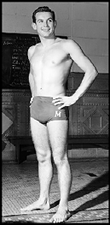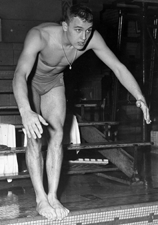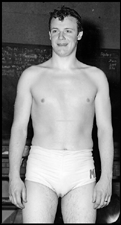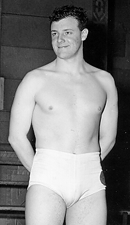 Burwell "Bumpy" Jones, Ron Gora, Jack Wardrop, Bert Wardrop
Jack and Robert Wardrop, who would earn letters at Michigan in 1954 and 1955, competed for Great Britain. Jack placed 4th in the 400 meter freestyle and Robert managed a 7th in the 100 meter backstroke. Tony Turner, who would compete at U-M in 1958-59, was on the British diving squad, finishing 8th in springboard and 19th in high diving.
Four Michigan trackmen, Jack Carroll, John Ross, Roy Pella, and Pete Sutton made the Canadian Olympic team. Three of them had been or would be Big Ten champions: Carroll in the 440, 1953; Ross in the mile, 1952; Pella in the discus, 1954. Sutton, who earned his Olympic berth before coming to Michigan, lettered in1954. Don McEwen, 1951 Big Ten champion in the mile, was thought to have legitimate medal prospects in the 5000 meters but missed the games due to injury. A young Eeles Landstrom, who would enroll at U-M in 1956, represented Finland in the decathlon. He finished 14th overall, but won the pole vault and placed second in javelin competition. Michigan's international track contingent was rounded out by three time Big Ten shot put champion Fritz Nilsson who competed for Sweden.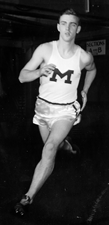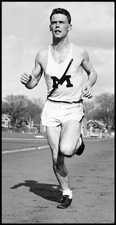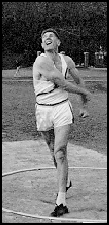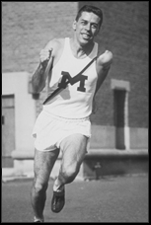 Michigan's Canadian track men: Jack Carroll, John Ross, Roy Pella, Don McEwen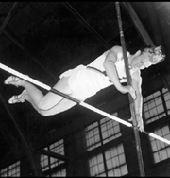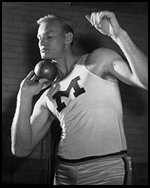 Eeles Landstrom, Fritz Nilsson

In 1952 Douglas Roby began a 34 year tenure on the U.S. Olympic Committee. Roby played fullback on Fielding Yost's football team and outfield for Ray Fisher's baseball squad in 1921 and 1922. He served several terms on the U-M Board in Control of Athletics and for two years was president of the National Amateur Athletic Union. Roby served as president of the U.S. Olympic Committee and for most of his time on the USOC was one of two U.S. representatives to the International Olympic Committee. At his death at age 94 in 1992, Roby was the oldest living U of M letterman.
---
The U-M Results - 1952
John Davies (Australia)
200 m. breaststroke
1st, 2:34.4, Olympic Record
Burwell "Bumpy"Jones
800 m. freestyle relay
set Olympic record in qualifying heat, but did not race in finals U.S. won gold
Ron Gora
100 meter freestyle
8th
Jack Wardrop (Great Britain)
400 meter freestyle
5th
100 meter freestyle
made semi-finals
800 m. freestyle relay
6th
Robert Wardrop (Great Britain)
100 meter backstroke
7th
Tony Turner (Great Britain)
springboard diving
8th
high diving
19th
Jack Carroll (Canada)
400 meter
did not make finals
4x400 meter relay
4th
John Ross (Canada)
800 meters
did not place
1500 meters
did not place
Roy Pella (Canada)
discus
14th
Walter "Pete" Sutton (Canada)
100 meters
did not place
200 meters
did not place
4x100 m. relay
did not place
Fritz Nilsson (Sweden)
shot put
5th
discus
7th
Eeles Landstrom (Finland)
decathlon
14th
---
Photo Credits:
Matt Mann, Ath. Dept., Box 43, 1950-194, BHL
John Davies, Ath. Dept., Box 43, 1950-1954, BHL
Burwell "Bumpy" Jones, Ath. Dept., Box 43, 1955-1959, BHL
Ron Gora, Ath. Dept., Box 43, 1950-1954, BHL
Jack Wardrop, Ath. Dept., Box 43, 1955-1959, BHL
Bert Wardrop, Ath. wept., Box 43, 1955-59, BHL
Jack Carroll, Ath. Dept., Box 41, 1952-1954, BHL
John Ross, Ath. Dept., Box 41, 1952-1954, BHL
Roy Pella, 19 Michiganensian, p. 34,BHL
Don McEwen, Ath. Dept., Box 41, 1952-1954, BHL
Fritz Nilsson, Ath. Dept., Box 41, 1952-1954, neg. # na ,BHL
Douglas Roby, Alumni Association, Box 14
Table of Contents | 1948-London | 1956-Melbourne | Name Index