Michigan in the Olympics

Melbourne - 1956 - Cortina
Swimmer Dick Hanley was the only Wolverine varsity athlete to make the long trip to Melbourne as part of the U.S. squad. Business School alumnus John Welchli, competing for the Detroit Rowing Club, represented the U.S. in the coxless four. Both came home with silver medals.
Hanley finished 5th in the 100 meter freestyle and then kept the string of Michigan medal winning Olympiads alive by capturing a silver medal as part of the 800 meter freestyle relay team. Jack Wardrop made his third Olympic appearance for Great Britain in the freestyle relay and 100 meter freestyle. Jozsef Gerlach represented Hungary in both diving events.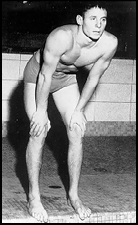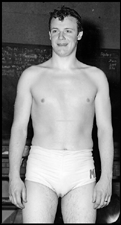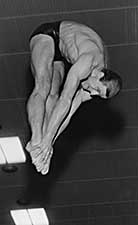 Dick Hanley, Jack Wardrop, Jozsef Gerlach, John Welchli
John Welchli, who earned an MBA from U-M in 1952, did not take up rowing until he was in grad school. He had been a swimmer and ran cross country and track at Brown as an undergrad. Welchli and Detroit Rowing Club boatmates John and Arthur Makinlay and James McIntosh, finished second to a Canadian team in Melbourne. Long a mainstay of the Michigan and national rowing scene, Welchli has been called "the most respected man on the Detroit River." He has won more than 30 U.S. and Canadian titles.
Laird Sloan ran on Canada's 4x400 meter relay team which finished in fifth place. He also competed in the 400 meters but did not advance from the preliminary heat. Eeles Landstrom, who won Big Ten pole vault titles in 1956 and 1959, represented Finland a second time, but competed in the pole vault rather than the decathlon as he had in 1952. A young Tom Robinsom made his first Olympic appearance as the only track and field competitor for the Bahamas. He finished 4th in his qualifying heat in the 100-meter dash. Robinson would enroll at U-M in 198 a5nd compete in three more Olympic games.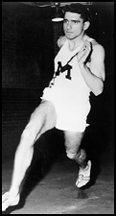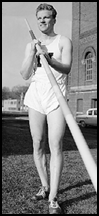 5 Laird Sloan, Eeles Landstrom, Brendan O'Reilly
Brendan O'Reilly, the Big Ten's high jump co-champion in 1956, competed for Ireland, but did not qualify for the finals. O'Reilly, who went on to become one of Ireland's best known sports broadcasters, gained another bit of Olympic notoriety in 1985 when he wrote the song "Let the Nations Play" in reaction to the American and Soviet boycotts of previous games. The International Olympic Committee adopted it as an official song for the Seoul games.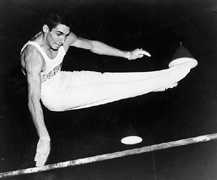 Ed Gagnier, who tied for the Big Ten all-around title in 1957, became the first U of M gymnast to compete in the Olympics. Though he did not place in Melbourne, he established Michigan as a training ground for future Canadian Olympians.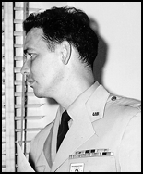 Col. Taylor Drysdale (left), a member of the 1936 Olympic team, served as assistant manager of the U.S. swim team. U of M track coach Don Canham (right) was in Melbourne as coach of a combined African team as part of a U.S. State Department program.
Cortina
In Cortina, Italy, Willard Ikola and John Matchefts became the first Michigan medalists in the winter games, earning silver medals with the U.S. hockey team. Ikola was named outstanding goalie of the games. Both played on two NCAA championship teams for UM, Ikola in 1951 and 192, Matchefts in 1951 and 1953. Matchefts was captain of the 1953 team. Robert White, who would letter for UM in 1958-1960, won a bronze medal with the Canadian Olympic squad.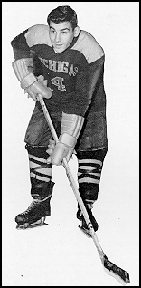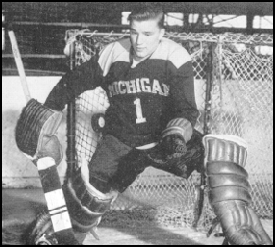 John Matchefts, Willard Ikola, Robert White
---
The U-M Results - 1956
John Welchli
rowing - coxless four
2nd
Dick Hanley
100 m. freestyle
5th
800 m. freestyle relay
2nd
Jack Wardrop (Great Britain)
800 m. freestyle relay
6th
400 m. freestyle
won his heat but did not advance to finals
Jozsef Gerlach (Hungary)
3 m. diving
8th
10 m. diving
4th
Laird Sloan (Canada)
4x400 m. relay
5th
400 meters
did not place
Eeles Landstrom (Finland)
pole vault
did not qualify for finals
Brendan O'Reilly (Ireland)
high jump
did not place
Tom Robinson (Bahamas)
100m
did not place
Ed Gagnier (Canada)
gymnastics
did not place
Willard Ikola
hockey
silver
John Matchefts
hockey
silver
Robert White (Canada)
hockey
bronze
Col. Taylor Drysdale
assistant manager of U.S. swimming team
---
Photo Credits:
Dick Hanley, copy print from 1957 Michiganensian, in Ath. Dept., Box 43, 1955-1959, neg. #na10020, BHL
Jack Wardrop, Ath. Dept., Box 43, 1955-1959, BHL
Laird Sloan, Ath. Dept., Box 41, 1955-1959, BHL
Brendan O'Reilly, 1957 Michiganensian, p. 391, BHL
Josef Gerlach, from 1960 team photo, 1961 Michiganensian, BHL
Ed Gagnier Ath. Dept., Box 32, 1953-1959, BHL
Col. Taylor Drysdale, Alumni Association, Box 140, BHL
Don Canham, Ath. Dept., Box 41, 1955-1959, BHL
Willard Ikola, 1952 Michiganensian, p. 217, neg #na11193, BHL
John Matchefts, 1953 Michiganensian, p.214, BHL