Michigan in the Olympics

Rome - 1960 - Squaw Valley
The U of M contingent in Rome included seven swimmers, two divers, a gymnast, and four track and field athletes. They earned two gold and a bronze for the U.S. and a bronze medal for Finland. Gus Stager, coach of the U.S. swimming team, saw Joan Spillane become the U of M's first woman gold medalist.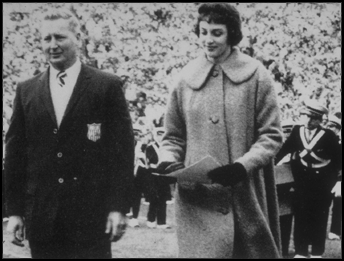 Gus Stager and Joan Spillane honored at ceremony
at Michigan Stadium Spillane finished third in both the 100 and 200 meter freestyle in the U. S. Olympic trials, earning her a place on the relay teams. In Rome, she swam the qualifying round in the 4x100 meter medley relay but did not race in the final, which the U.S. team won. In the 4x100 meter freestyle relay Spillane did not race the qualifying heat but swam the opening leg of the final. She clocked a very good 1:02. and did well to stay within three lengths of Australia's Dawn Fraser who set a world record of 1:00.25. Shirley Stobbs, Carolyn Woods and Chris von Saltza were able to make up more than that distance for a three length win in a world record 4:08.9.
Robert Webster confounded the experts to win Michigan's second gold medal in diving, capturing first in the platform event. Only his coaches, Sammy Lee and U-M' Bruce Harlan, both former Olympic gold medalists, gave Webster much of a chance against Gary Tobian of the U.S. and Britain's Brian Phelps. Saving his most difficult dives till last, Webster took the lead from Tobian with a near perfect 2 1/2 somersault on his second to last dive and held on to win the gold by the narrowest margin in Olympic history.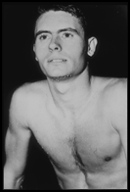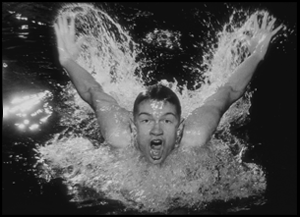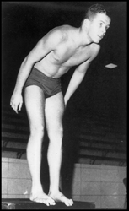 Robert Webster, Dave Gillanders, William Darnton
Alvaro Gaxiola of Mexico and Ernie Meissner of Canada placed 4th and 5th in three meter diving. Dave Gillanders took third in the 200 meter breaststroke. Gillanders in the 400 meter medley relay and Bill Darnton in the 800 meter freestyle relay were part of record setting performances in the qualifying rounds and then watched as teammates lowered the records further in winning gold medals. Karri Kayhko, who was enrolled at UM 1959/60, competed in three events for Finland. He placed first in the preliminary heat of the 100 meter freestyle and 4th in the semi-final heat, narrowly missing the finals. He anchored the Finnish team to fifth place in the 4x200 meter freestyle relay and also swam the anchor leg on the 4x100 medley relay. Alejandro Gaxiola swam the backstroke and 400 meter medley for Mexico.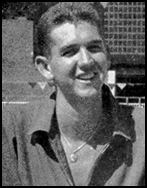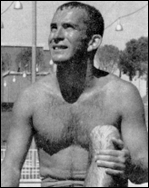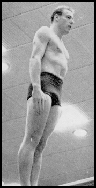 Alejandro Gaxiola, Alvaro Gaxiola, Ernie Meissner
Eeles Landstrom, two time Big Ten champion, won a bronze medal for Finland in the pole vault while Tom Robinson of the Bahamas, a two-time Big Ten titlist in the 100 and 220 yard dashes, made it to the semi-finals in both the 100 and 200 meter dashes. Canada's Ergas Leps advanced to the quarter-finals of the 800 meter run. During his Michigan career Leps was a three time Big Ten champion in the mile, 1960-1962 and won the 800 yard crown in 1961. Douglas Kyle, a UM graduate student in 1957/58, doubled in the 5,000 and 10,000 meter races for Canada. He did not place in the 5,000 and finished 24th in the 10,0000.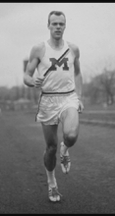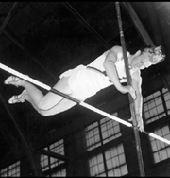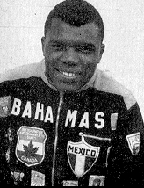 Ergas Leps, Eles Landstrom, Tom Robinson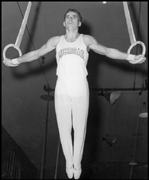 Richard Montpetit
Richard Montpetit was the second Michigan gymnast to compete on the Canadian Olympic team. He did not place in the Olympics but returned to Michigan to win the Big Ten all-around title in 1961. Former Wolverine star and 1956 Olympian Ed Gagnier won a spot on the Canadian team when Montpetit was injured at the trials but the selection committee selected Montpetit based on stronger pre-trial performances.
Two of Michigan's top medal prospects failed to make U.S. swimming team. Breaststroker Ron Clark, who had defeated the eventual gold medal winner in several meets during the previous year, was disqualified for making an illegal turn in the U.S. trials at Detroit. The Wolverine's 1960 captain, Tony Tashnick, missed his Olympic chance when teammate Dave Gillanders passed him in the final 20 yards of the 200 meter butterfly.
Hungary's Joe Gerlach, 4th place finisher in 10 meter diving and 8th in the 3 meter at Melbourne in 1956 and UM letterwinner in 1959 and 1960, missed the Rome games for lack of a country. Following his Melbourne performance, Gerlach had denounced Russian intervention in Hungary and suppression of an anti-communist revolt. When Gerlach sought permission to compete for Hungary in the 1960 games, the communist dominated government rejected his appeal. Gerlach had defeated both Webster and Tobian during the previous year and would have been a favorite to medal.
---
The U-M Results - 1960
Joan Spillane
400 m. freestyle relay
1st
400 m. medley relay
swam qualifying round, did not race in final, U.S. took 1st
Robert Webster
platform diving
1st
Dave Gillanders
200 m. butterfly
3rd, 2:15.3
400 m. medley relay
swam qualifying round, world record, U.S. won gold medal, new world record
William Darnton
800 m. freestyle relay
U.S. team took 1st, Darnton did not race in finals U.S. won final in world record
Alejandro Gaxiola (Mexico)
backstroke
did not place
400 m. medley relay
did not place
Alvaro Gaxiola (Mexico)
3 meter diving
4th
Ernie Meissner (Canada)
3 meter diving
5th
Kharri Kayhko (Finland)
100 m. freestyle
did not place, 4th in semi-final heat
4x200 free relay
5th place
4x100 medley relay
did not place, 5th in prelim. heat
Richard Montpetit (Canada)
gymnastics
did not place
Eeles Landstrom (Finland)
pole vault
3rd
Tom Robinson (Bahamas)
100 meters
made semi-finals
200 meters
made semi-finals
Ergas Leps (Canada)
800 meters, track
made quarter-finals
4x400 relay
made semi-finals
Douglas Kyle (Canada)
5000 meters, track
did not place, 7th in 1st heat
10,000 meters, track
24th place
---
1960 - Squaw Valley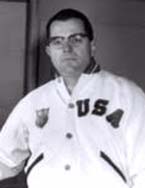 U-M's only representative at the 1960 Winter Games was Jim Claypool, with the U.S. hockey team. He didn't see any ice time, but as manager of the team he got a gold medal as part of what is now sometimes referred to as "The First Miracle On Ice." The Hibbing, Minnesota native won his "M" with the 1942 U-M hockey team. After his sohpomore season Claypool entered the U.S. Navy. Following his WWII service he settled in Duluth, Minnesota and was active in youth hockey programs and the Minnesota Amateur Hockey Association and USA Hockey. After he received his gold medal he was informed that support staff were not eligible to receive a medal and was asked to return his. That didn't happen. Claypool recalled, "After our experience that year, it would've been hard not to keep something so special."
---
Photo Credits:
Gus Stager and Joan Spillane, neg. # NIS Ser. B, Box 2, 1824, BHL
Robert Webster, Ath. Dept., Box 43, 1960-1963, BHL
Dave Gillanders, Ath. Dept., Box 43, 1960-1963, BHL
William Darnton copy print from 1961 Michiganensian, in Ath. Dept., Box 43, 1960-1963, neg. #na10019, BHL
Alejandro Gaxiola, The Michigan Alumnus , Oct. 15, 1960, p. 30, BHL
Alvaro Gaxiola, The Michigan Alumnus , Oct. 15, 1960, p. 30, BHL
Ernie Meissner,1960 Michiganensian, p. 304, BHL
Ergas Leps, Ath. Dept., Box 43, 1960-1963, BHL
Tom Robinson, The Michigan Alumnus , Oct. 15, 1960, p. 30, BHL
Eles Landstrom, Ath. Dept., Box 43, 1955-1959, BHL
Richard Montpetit, Ath. Dept., Box 32, 1960-1966, BHL
Table of Contents | 1956-Melbourne | 1964-Tokyo | Name Index