Michigan in the Olympics

1964 - Tokyo
<! -- BEGIN TEXT -- >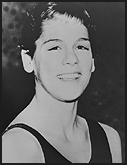 Ginny Duenkel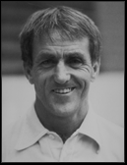 Dick Kimball Ginny Duenkel, winner of a gold medal in the 400 meter freestyle and bronze in the 100 meter backstroke, didn't enroll at U of M until after the 1964 games. She went on to win three women's collegiate backstroke championships while competing for the U of M Women's Athletic Association. team. In the 400 meter race Duenkel defeated four former world record holders.
Dick Kimball made his first appearance as U.S. diving coach at the Tokyo games and had three Wolverine divers in the competition.
Bob Webster won his second gold medal in platform diving for the U.S. Alvaro Gaxiola made his second Olympic appearance for Mexico and John Candler represented Great Britain in three meter diving. Carl Robie earned a silver medal in the 200 meter butterfly and showed his versatility with a 4th place finish in the 400 meter individual medley. William Farley, who later became U of M swimming coach, finished 4th in the 1500 meter freestyle. Carlos Canepa, who swam for U of M 1963-1964, represented Peru in three events.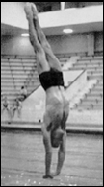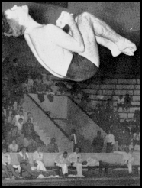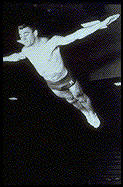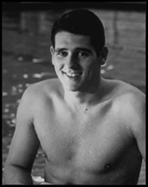 Bob Webster, Alvaro Gaxiola, John Candler, Carl Robie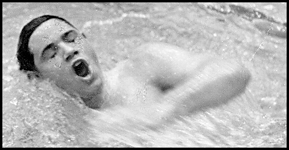 William Farley
Tom Robinson again qualified for the Bahamian team in the 100 and 200 meter dashes. He finished 3rd in his 100 meter semi-final heat with a time of :10.2 , but could only manage a :10.5 for 8th place in the finals. Robinson did not race in the 200 meters. Kent Bernard, twice Big Ten champion in the 440, ran the third leg on Trinidad-Tobago's 4x400 meter relay. Their time of 3:01.7 broke the world record, but was only good enough for a third place behind the U.S. Bernard also advanced to the semi-finals of the 400 meter race. Austria's Ernst Soudek, who competed for U of M, 1962-1964, did not make the qualifying distance in the discus. Two U of M athletes competed for Canada. George Puce, a letterwinner in 1963, did not place in the shot put. Cliff Nuttal, 1963 Big Ten hurdles champion, failed to make the finals in the 110 meter high hurdles.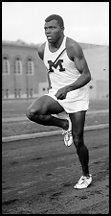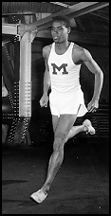 Tom Robinson, Kent Bernard, Ernst Soudek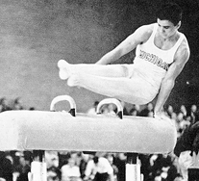 Gil Larose

Gymnast Gil Larose, 1963 NCAA all-around champion, competed for Canada.
Jim Kerr, who won three letters in swimming 1960-62, was an alternate on the U.S. modern pentathlon team.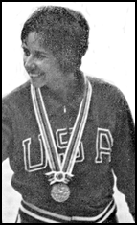 Marcia Jones Smoke Marcia Jones Smoke, who attended U of M 1960-1962 before finishing her degree at Michigan State, became the first Michigan medalist in kayaking, winning a bronze in the 500 meter singles event. This was the first of three Olympic appearances for Smoke. Andras Toro was a member of the Hungarian canoe team. After finishing fourth in the 1000 meter singles event, Toro defected to the United States. He came to Ann Arbor to enroll in the English Language Institute and then in the College of Engineering. Toro later earned a place on the 1972 U.S. Olympic team.
Emory Clark, who would earn a law degree from U-M in 1972, was the fifth seat in Philadelphia's Vesper Boat Club eight that captured gold in Tokyo. A Detroit native, Clark attended Yale and was captain of the 1960 Eli crew team. Clark, who was on leave from the Marine Corps, joined with some veteran Schuylkill club oarsmen and recent Ivy Leaguers to defeat a heavily favored Harvard squad at the U.S. trials. After finishing second in their qualifying heat, the U.S. eight won its repechage and then defeated the German team by more than 3 seconds in the finals.
<! -- END TEXT -- >
---
<! -- BEGIN UM RESULTS -- >
The U-M Results - 1964
Ginny Duenkel
400 m. freestyle relay
1st
100 m. backstroke
3rd
Bob Webster
platform diving
1st
Carl Robie
200 m. butterfly
2nd, 2:07.5
400 m. ind. medley
4th, 4:51.4
William Farley
1500 meter freestyle
4th, 17:18.2
John Candler (Great Britain)
3 meter diving
9th
Alvaro Gaxiola (Mexico)
3 meter diving
15th
platform diving
18th
Carlos Canepa (Peru)
400 meter Freestyle
did not place
200 meter butterfly
did not place
4x100 freestyle relay
did not place
Tom Robinson (Bahamas)
100 meters
8th
200 meters
scratched in first round
Kent Bernard (Trinidad-Tobago)
4x100 m. relay
3rd, 3:07.1
Ernst Soudek (Austria)
discus
did not place
George Puce (Canada)
shot put
did not place
Cliff Nuttall (Canada)
110 meter hurdles
did not place
Gil Larose (Canada)
gymnastics
did not place
Jim Kerr
modern pentathlon
alternate, did not compete
Marcia Jones Smoke
kayak, 500 m. singles
3rd
Andras Toro (Hungary)
canoe, 1000 m. singles
4th
Emory Clark
rowing - eights
1st
<! -- END UM RESULTS -- >
---
<! -- BEGIN CREDITS ETC -- >
Photo Credits:
Dick Kimball, Ath. Dept., Box 43, 1966-1968
Robert Webster, Ath. Dept., Box 43, 1960-1963, BHL
Alvaro Gaxiola, 1955 Michiganensian, p. 388, BHL
John Candler, Ath. Dept., Box 43, 1960-1963, BHL
Carl Robie, Ath. Dept., Box 43, 1966-1968, BHL
William Farley Ath. Dept., Box 43, 1966-1968, BHL
Tom Robinson, Ath. Dept., Box 43, 1960-1963, BHL
Kent Bernard, Ath. Dept., Box 43, 1960-1963, BHL
Ernst Soudek, Ath. Dept., Box 43, 1964-1966, BHL
Gil Larose, from 1961 Michiganensian p. 308
Marcia Jones Smoke, from The Games of the XVIII Olyimpiad, Tokyo: The Official Report of the Organizing Committee; page 251
Table of Contents | 1960-Rome | 1968-Mexico City | Name Index