Michigan in the Olympics

1972 - Munich
<! -- BEGIN TEXT -- >
The Munich games brought forth a contingent of twenty-one athletes with U of M connections: four divers, seven swimmers, four gymnasts, three in track, two kayakers and a canoeist. Only seven of the nineteen represented the United States. Diver Micki King recovered from her mishap in Mexico City to win the gold medal in 3 meter diving and place fifth in platform diving. Dick Rydze won the silver medal in platform diving for the U.S. and swimmer Bill Mahoney was on Canada's bronze medal winning 400 meter medley relay team.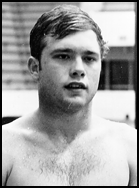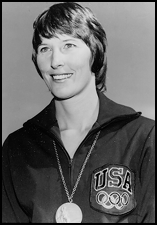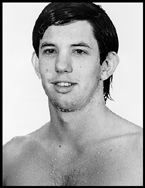 Dick Rydze, Micki King Hogue, Bill Mahoney
Diver Janet Ely returned to Ann Arbor with two fourth place finishes. Laura Kivela, who attended Ann Arbor's Huron High in a U of M sponsored exchange program and trained with Dick Kimball, was on Finland's diving squad. Juan Bello of Peru placed 7th in the 200 meter individual medley in his second Olympic appearance and Jose Aranha anchored two Brazilian relay teams to 4th and 5th place finishes.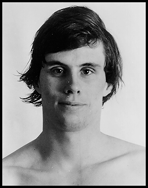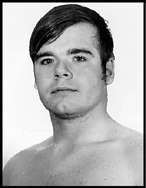 Mike Whitaker, Bill Kennedy, In addition to Bill Mahoney, three other Canadian Wolverine swimmers competed in Munich. Byron McDonald placed 6th in the 100 meter butterfly but Mike Whitaker and Bill Kennedy did not make the finals in their events. Marilyn Dawson Corson, a Michigan State graduate with Matt Mann family ties to U of M, appeared in her second Olympics. She did not place in the 100 meter butterfly but helped the 4x100 medley relay team to 7th place.
Andrew Hunter, who would earn a masters degree in the U-M College of Engineering in 1975, was Ireland's lone swimmer in Munich. His time of :56.09 in 100-meter freestyle was not good enough to move out of the preliminaries. His son Andrew swam for Great Britain in Beijing in 2008.
Francie Kraker and Jamaicans Kim Rowe and Godfrey Murray represented U of M in track competition at Munich. Rowe was three time Big Ten 440 yard champion, 1972-1974 and anchored the Wolverine mile relay champions in 1972 and 1973. Murray won the Big Ten 120 yard hurdle title in 1972 and 1973. Neither managed to make the finals in Munich. Francie Kraker made a second Olympic appearance, racing in the inaugural Olympic 1500 meter event for women. She advanced to the semifinals with the second fastest all-time U.S. performance in the event.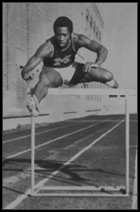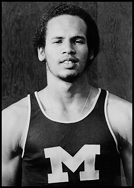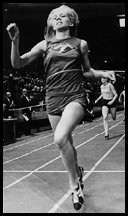 Godfrey Murray, Kim Rowe, Francie Kraker
Kraker winning U. S. 800 m. national championship, 1970, Madison Square Garden
Four Michigan gymnasts, Bill Mackie, Bruce Medd, Pierre LeClerc, and Richard Bigras made the Canadian team. LeClerc and Bigras, however did not make it to the games when the Canadians decided not to take the full squad to Munich. Medd broke his finger while practicing and was unable to compete.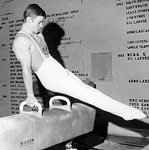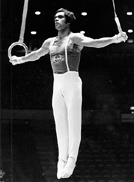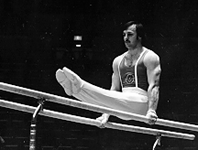 Bill Mackie, Pierre LeClerc, Richard Bigras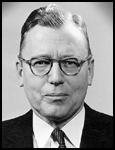 Marcus Plant Andras Toro, a naval engineering graduate student who had competed for Hungary in 1964, made the U.S. canoe team. Doug Soules earned a place on the U.S. men's kayak team but did not compete in Munich. Marcia Jones Smoke, making her third Olympic appearance, finished ninth in the women's singles kayak competition. Sperry Jones Rademaker, a competitor in 1968, served as a coach with the kayak squad.

Marcus Plant, professor in the Law School, long-time faculty representative to the Big Ten Conference and a former president of the NCAA, completed a four year term on the U.S. Olympic Committee.
<! -- END TEXT -- >
---
<! -- BEGIN UM RESULTS -- >
The U-M Results - 1972
Micki King
3 meter diving
1st
platform diving
5th
Dick Rydze
platform diving
2nd
Janet Ely
3 meter diving
4th
platform diving
4th
Bill Mahoney (Canada)
400 m. medley relay
3rd
100 m. breaststroke
made semi-finals
200 m. breaststroke
made semi-finals
Jose Aranha (Brazil)
4x100 medley relay
5th
4x100 freestyle relay
4th
Juan Bello (Peru)
200 m. ind. medley
7th
100 m. butterfly
made semi-finals
100 m. freestyle
made semi-finals
Byron McDonald (Canada)
100 m. butterfly
6th
200 m. butterfly
did not place
Mike Whitaker (Canada)
100 m. breaststroke
did not place
200 m. breaststroke
did not place
Bill Kennedy (Canada)
200 meter backstroke
did not place
4x100 m. medley relay
swam preliminary heat, Canada won bronze medal
Andrew Hunter (Ireland)
100 meter freestyle
did not place
Laura Kivela (Finland)
platform diving
did not place
3 meter diving
did not place
Francie Kraker
1500 meters
advanced to semi-finals
Godfrey Murray (Jamaica)
hurdles
did not place
Kim Rowe (Jamaica)
4x100 m. relay
did not place
Marilyn Corson (Canada)
100 m. butterfly
did not place
4x100 m. medley relay
7th
Andras Toro
1000 m. canoe
did not place
Marcia Jones Smoke
kayak
9th
Sperry Jones Rademaker
assistant coach, kayak team
Doug Soules
kayaking
did not compete
Bill Mackie, Bruce Medd, Pierre LeClerc, and Richard Bigras were selected for the Canadian gymnastics team. Only Medd competed in Munich.
<! -- END UM RESULTS -- >
---
<! -- BEGIN CREDITS ETC -- >
Photo Credits:
Micki King, Ath. Dept., Box 43, 1966-1968, BHL
Dick Rydze, Ath. Dept., Box 43, 1971-1972, BHL
Bill Mahoney, Ath. Dept., Box 43, 1971-1972, BHL
Juan Bello, Ath. Dept., Box 43, 1969-1970, BHL
Jose Arahna, Ath. Dept., Box 43, 1972-1975, BHL
Mike Whitaker, Ath. Dept., Box 43, 1971-1972, BHL
Bill Kennedy, Ath. Dept., Box, 1971-1972, BHL
Kim Rowe, Ath. Dept., Box 41, 1974-1975, BHL
Godfrey Murray, Ath. Dept., Box 43, 1971, BHL
Francie Kraker, courtesy of Francie Kraker Goodridge
Bill Mackie, Ath. Dept., Box 32, BHL
Pierre Leclerc, Ath. Dept., Box 32, BHL
Richard Bigras, Ath. Dept., Box 32, BHL
Marcus Plant, Faculty Portrait Collection, BHL
Table of Contents | 1968-Mexico City | 1976-Montreal | Name Index