Michigan in the Olympics

1980 - Moscow
<! -- BEGIN TEXT -- >
The U.S. boycott of the Moscow games deprived six U of M athletes of their chance for Olympic medals. Divers Barb Weinstein, Chris Seufert, and Kevin Machemer had won spots on the U.S. squad coached by Dick Kimball. Mark Johnson had made the wrestling team. Weinstein's Olympic disappointment was somewhat soothed when she won the 10 meter competition in the 1980 U.S. Outdoor Platform Diving Championships. Mark Gorski and Tom Schuler qualified for the cycling team. Gorski would return to win a gold medal in the 1000 meter sprint in Los Angeles. Schuler was an alternate on the 1976 and 1984 teams. He won the National Criterion Championship in 1981. Ann Arbor native Carl Schueler took up race walking at Frostburg State College in Maryland. He won the 50 kilometer race at the 1980 U.S. Olympic Trials. After not competing in Moscow, Scheuler enrolled in the regional and urban planning program at U-M School of Natural Resources. He would go on to make three more U.S. Olympic teams.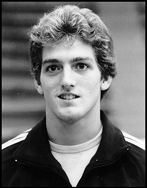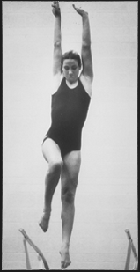 Barb Weinstein, Kevin Machemer, Chris Seufert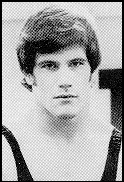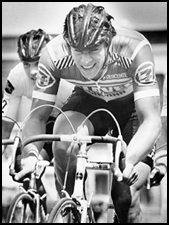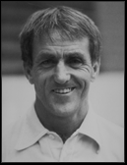 Mark Johnson, Tom Schuler, Dick Kimball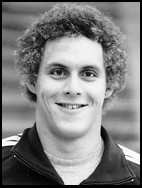 Fernando Canales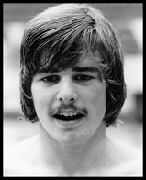 Kevin Williamson

Swimmers Fernando Canales of Puerto Rico and Kevin Williamson of Ireland did compete in Moscow but neither made it to the finals. Williamson, a three-time Olympian, was one of only two Irish swimmers at the games. He raced in the preliminaries of the 200 and 400 meter freestyle and was also entered in the 1500 meter freestyle but did not compete.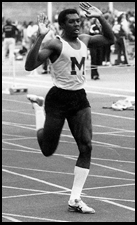 Andrew Bruce

Andrew Bruce, who ran the 220 leg on U-M's world record setting sprint medley relay team in 1979, represented Trinidad and Tobago in the 200 meters sprint and 4x100 meter relay. He won his first heat in the 200 in a time of :21.35 and placed fourth in the second round at :20.9 He anchored the 400 meter relay team to a 5th place finish, just .03 seconds behind Jamaica and a spot in the finals. Bruce returned to school to capture Big Ten titles in the 60 and 300 yard dash (indoor) and the 100 and 200 meter dash (outdoor) in 1981 and 1982.
Petros Pappas, a 1975 graduate of the College LS&A, was a member of the Greek shooting team. The Athens native placed 37th in the mixed skeet competition.
1980 - Lake Placid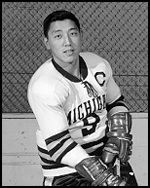 Mel Wakabayashi


Mel Wakabayashi was the sole Michigan representative at the 1980 Winter Games in Lake Placid. A Canadian of Japanese descent who skated on U of M's 1964 NCAA championship hockey team, Wakabayashi was coach of Japan's hockey squad.
<! -- END TEXT -- >
---
<! -- BEGIN UM RESULTS -- >
The U-M Results - 1980
Barb Weinstein
platform diving
did not compete
Chris Seufert
3 m. diving
did not compete
Kevin Machemer
3 m. diving
did not compete
Fernando Canales (Puerto Rico)
100 m. freestyle
did not place
200 m. freestyle
did not place
Kevin Williamson (Ireland)
200 m. freestyle
6th in prelim heat, 1:57.37
400 m. freestyle
5th in prelim heat, 4:09.01
500 m freestyle
did not compete
Mark Johnson
wrestling
did not compete
Tom Schuler
cycling
did not compete
Mark Gorski
cycling
did not compete
Andrew Bruce (Trinidad and Tobago)
200 meters
advanced to semi-finals, :20.9
4x100 m. relay
5th in prelim. heat, 39.74
Carl Schueler
50 m. race walking
did not compete
Petros Pappas (Greece)
shooting -- mixed skeet
37th place overall
Dick Kimball
coach of U.S. diving team
Mel Wakabayashi
coach of Japanese hockey team at Lake Placid
<! -- END UM RESULTS -- >
---
<! -- BEGIN CREDITS ETC -- >
Photo Credits:
Barb Weinstein, Ath. Dept., Box 45, BHL
Kevin Machemer, Ath. Dept., Box 43, 1979-1980, BHL
Mark Johnson, UM Wrestling Media Guide, 1977
Tom Schuler, courtesy Mrs. Jean Schuler
Dick Kimball, Ath. Dept., Box 43, 1979-1980
Fernando Canales, Ath. Dept., Box 43, 1979-1980, BHL
Kevin Williamson, Ath. Dept., Box 43, 1979-1980
Mel Wakabayashi, Ath. Dept., Box 33, 1965/66, neg. NIS, Ser. B, Box 11, BHL
Andrew Bruce, Ath, Dept., Box 41, 1982, BHL
Table of Contents | 1976-Montreal | 1984-Los Angeles | Name Index