Michigan in the Olympics

1984 - Los Angeles
<! -- BEGIN TEXT -- >
Eight of the nine U of M athletes who competed for the U.S. in Los Angeles came home with medals. Steve Fraser won the first ever U.S. gold medal in greco-roman wrestling. Dick Kimball got another chance to coach the U.S. diving team and saw his son Bruce win the silver medal in platform diving. Ron Merriott placed third in 3 meter diving. Chris Seufert persevered following the disappointment of Moscow to win the bronze medal in the women's three meter.Kongzhen LI of China, who woudl succedd Kimball as U-M diving coach, placed third in 10 meter diving. Cyclist Mark Gorski, who also had qualified for the 1980 U.S. team, won a gold medal in the 1000 meter sprint event.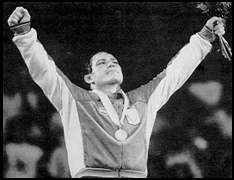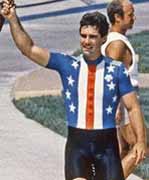 Steve Fraser Mark Gorski
The boycott of the of Los Angeles games by Soviet Bloc nations may have diluted the Greco-Roman wrestling competition somewhat--they did win 23 of 30 medals at Moscow in 1980, but Fraser's coach insisted he would have won the 198-pound class anyway. Fraser got to the finals by upsetting three-time world champion Frank Andersson of Sweden. In the championship match against Ilie Matei of Romania, Fraser gave up an early takedown. Trailing 1-0 in the final period, Fraser scored a takedown with less than 40 seconds remaining to tie the score. In Greco-Roman wrestling, the last point scored wins, so suddenly it was Fraser's match to lose. He recalled thinking, "I had it if I just didn't slip or fall or make a stupid mistake." He fended off Matie's frantic efforts to win the first ever U.S. medal in the sport. He did a back flip at center mat when the referee declared him the winner and then broke down in tears of joy and relief in an emotional medal stand ceremony.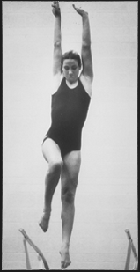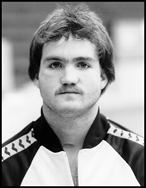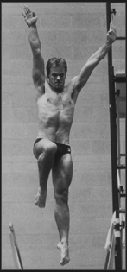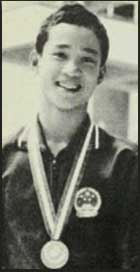 Chris Seufert, Bruce Kimball, Ron Merriott Kongzhen Li
Barry Larkin won a silver in baseball, an exhibition sport, and U-M alumnus Greg Barton placed third in the 1000 meter kayaking event. Brian Diemer's bronze in the 3000 meter steeplechase was the first Wolverine medal in track and field for the U.S. since Eddie Tolan's double gold in 1932. Carl Schueler, a graduate student in the School of Natural Resources, represented the U.S. in the 50 kilometer walk race, finishing in sixth place. Doug Herland, former coach of the U-M rowing team, served as coxswain on the U.S. pairs team that won a bronze medal.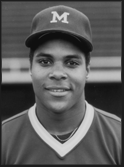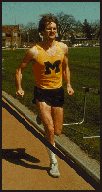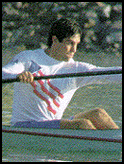 Barry Larkin, Brian Diemer, Greg Barton
Michigan was represented by swimmers Fernando Canales of Puerto Rico, Benoit Clement and Melinda Copp of Canada and Alejandro Alvizuri of Peru. In his second Olympics, Canales raced in three freestyle events but did not place. Clement swam the qualifying rounds for Canada's 4x200 meter freestyle relay team but did not race in the finals. Copp was Michigan's first women's varsity swimmer to compete in the Olympics. She finished sixth in her heat in the 200 meter backstroke, 19th overall. Alvizuri, who would compete for U-M 1986-1989, swam the 100 and 200 meter backstroke but did not place in either. Kongzhen Li of China won the bronze medal in 10 meter diving -- he would serve as u-M diving coach 2011-2014. U-M swimming coach Jon Urbanchek was an assistant coach for the U.S. team.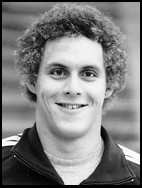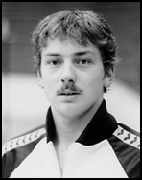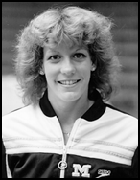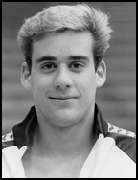 Fernando Canales, Benoit Clement, Melinda Copp, Alejandro Alvizuri


Diane Ratnick

Diane Ratnik played only one year of varsity volleyball at U-M, but as a freshman in 1981 she helped bring the team its first Big Ten Tournament championship. She was a middle player for the 1984 Canadian Olympic team that finished 8th. Ratnik went on to serve as captain of the Canadian National Team, 1985-1988 and made another Olympic appearance in 1996, this time as a setter.
<! -- END TEXT -- >
---
<! -- BEGIN UM RESULTS -- >
The U-M Results - 1984
Steve Fraser
greco-roman wrestling
1st
Mark Gorski
cycling, 1000 m. sprint
1st
Barry Larkin
baseball
2nd
Bruce Kimball
platform diving
2nd
Chris Seufert
3 meter diving
3rd
Ron Merriott
3 meter diving
3rd
Kongzhen Li (China)
10 meter diving
3rd
Doug Herland
pairs with coxswain
3rd
Fernando Canales (Puerto Rico)
100 m. freestyle
19th
200 m. freestyle
37th
4x100 m. free. relay
14th
Benoit Clement (Canada)
4x200 m. free. relay
raced in qualifying rounds, advanced to finals
Melinda Copp (Canada)
200 m. backstroke
19th
Alejandro Alvizuri (Peru)
100 m. backstroke
6th in heat
200 m. backstroke
6th in heat
Brian Diemer
3000 m. steeplechase
3rd
Carl Schueler
50 km. walk
6th
Greg Barton
1000 m. kayaking
3rd
Diane Ratnik (Canada)
volleyball
8th
Dick Kimball
coach of U.S. diving team
Jon Urbanchek
assistant coach of U.S. swimming team
<! -- END UM RESULTS -- >
---
<! -- BEGIN CREDITS ETC -- >
Photo Credits:
Chris Seufert, Ath. Dept., Box 45, BHL
Bruce Kimball, Ath. Dept., Box 43, 1984, BHL
Ron Merriott, Ath. Dept., Box 43, 1982, BHL
Barry Larkin, Ath. Dept., Box 21, BHL
Brian Diemer, Ath. Dept., Box 41, BHL
Fernando Canales, Ath. Dept., Box 43, 1979-1980, BHL
Benoit Clement, Ath. Dept., Box 43, 1984, BHL
Melinda Copp, Ath. Dept., Box 45, BHL
Greg Barton, photo by Bob Long/LPI
Mark Gorski, photo by AP